Private enterprise objector goes it alone
8th April 1966
Page 36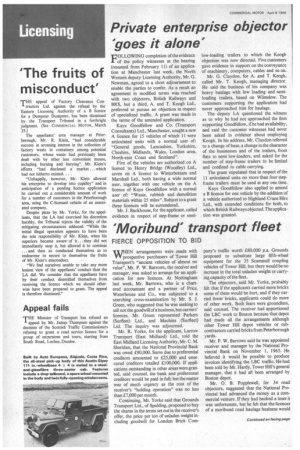 Page 36, 8th April 1966 —
Private enterprise objector goes it alone
Close
VOLLOWING completion of the evidence of the policy witnesses at the hearing (resumed from February 11) of an application at Manchester last week, the North Western deputy Licensing Authority, Mr. G. Newman, agreed to a short adjournment to enable the parties to confer. As a result an agreement in modified terms was reached with two objectors, British Railways and BRS, but a third, A. and T. Keogh Ltd., preferred to pursue an objection in respect of specialized traffic. A grant was Made in the terms of the amended application.
Kaye Goodfellow and Co. (Transport Consultants) Ltd., Manchester, sought a new A licence for 15 vehicles of which 11 were articulated units with a normal user of: "General goods, Lancashire, Yorkshire, Cheshire, Midlands, Wales, London area, North-east Coast and Scotland".
Five of the vehicles are authorized on A licence to Henry Bridge (Woodley) Ltd., seven on A licence to Winterbottam and Marshall Ltd., both having a wide normal user, together with one vehicle on the A licence of Kaye Goodfellow with a normal user of: "Waste, rubbish and demolition materials within 25 miles". Subject to a grant these licences will be surrendered.
Mr. J. Backhouse, for the applicant, called evidence in respect of step-frame or semi
low-loading trailers to which the Keogh objection was now directed. Five customers gave evidence in support on the conveyance of machinery, computers, cables and so on.
Mr. G. Claydon, for A. and T. Keogh, called Mr. T. Keogh, managing director. He said the business of his company was heavy haulage with low loading and semiloading trailers, based on Wilmslow. The customers supporting the application had never approached him for haulage.
The deputy LA questioned the witness as to why he had not approached the firm supporting Goodfellow, if he had availability, and said the customer witnesses had never been asked in evidence about employing Keogh. In his address, Mr. Claydon referred to a change of base, a change in the character of the businesses and of the trailers, from fiats to semi low-loaders, and asked for the number of step-frame trailers to be limited and confined to cable carrying.
The grant stipulated that in respect of the 11 articulated units no more than four stepframe trailers must be used at any one time.
Kaye Goodfellow also applied to amend a B licence for one vehicle by the addition of a vehicle authorized to Highland Crane Hire Ltd., with extended conditions for both, to which British Railways objected. The application was granted.