'Moribund' transport fleet
8th April 1966
Page 36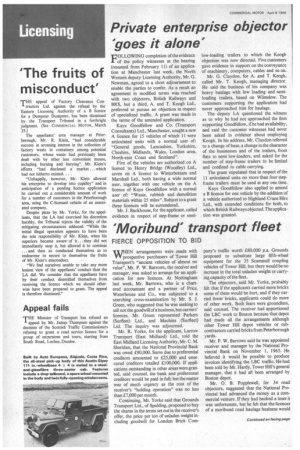 Page 37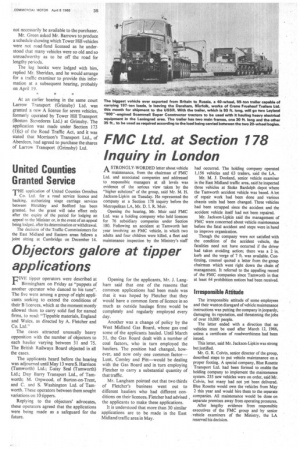 Page 36, 8th April 1966 —
'Moribund' transport fleet
Close
FIERCE OPPOSITION TO BID
WEN arrangements were made with rospective purchasers of Tower Hill Transport's "ancient vehicles of almost no value", Mr. P. W. Barrows, the receiver and manager, was asked to arrange for an application for new licences. At Nottingham last week, Mr. Barrows, who is a chartered accountant and a partner of Price, Waterhouse and Co., was subjected to a searching cross-examination by Mr. S. J. Green, who suggested that he was seeking to sell not the goodwill of a business, but carriers' licences. Mr. Green represented Parkers (Surfleet) Ltd., and Machins (Surfleet) Ltd. The inquiry was adjourned.
Mr. R. Yorke, for the applicant, Larrow Transport (East Midland) Ltd., told the East Midland Licensing Authority, Mr. C. M. Sheridan, that the National Provincial Bank was owed £90,000. Sums due to preferential creditors amounted to £25,000 and unsecured creditors totalled £.100,000. If applications outstanding in other areas were granted, said counsel, the bank and preferential creditors would be paid in full; but the matter was of much urgency as the cost of the receiver's "holding operation" was no less than £7,000 per month.
Continuing, Mr. Yorke said that Grounds Transport Ltd., of Spalding, proposed to buy the shares in the terms set out in the receiver's offer, the price per ton of unladen weight including goodwill for London Brick Corn
pany's traffic worth £.80,000 p.a. Grounds proposed to substitute large fifth-wheel equipment for the 35 Scammell coupling vehicles of Tower Hill, but there would be no increase in the total unladen weight or carrying capacity of the fleet.
The objectors, said Mr. Yorke, probably felt that if the applicants carried more bricks some of them would be hurt, and if they carried fewer bricks, applicants could do more of other work. Both fears were groundless, said counsel. The receiver had apportioned the LBC work to Boston because that depot had made all the arrangeme,nts although other Tower Hill depot vehicles or subcontractors carried bricks from Peterborough yards.
Mr. P. W. Barrows said he was appointed receiver and manager by the National Provincial Bank on November 1, 1965. He believed it would be possible to produce invoices identifying the LBC traffic. He had been told by Mr. Hardy, Tower Hill's general manager, that it had all been arranged by Boston depot.
Mr. 0. B. Popplewell, for 34 road objectors, suggested that the National Provincial had advanced the money as a commercial venture. If they had backed a loser it was unfortunate, but he felt that the licences of a moribund road haulage business would
not necessarily be available to the purchaser.
Mr. Green asked Mr. Barrows to produce a schedule showing which Tower Hill vehicles were not road-fund licensed as he understood that many vehicles were so old and so unroadworthy as to be off the road for lengthy periods.
The log books were lodged with him, replied Mr. Sheridan, and he would arrange for a traffic examiner to provide this information at a subsequent hearing, probably on April 19.
At an earlier hearing in the same court Larrovv Transport (Grimsby) Ltd. was granted a new A licence for seven vehicles, formerly operated by Tower Hill Transport (Boston Stevedores Ltd.) at Grimsby. The application was made under Section 173 (1Xc) of the Road Traffic Act, and it was stated that Morrison's Transport Ltd., of Aberdeen, had agreed to purchase the shares of Larrovv Transport (Grimsby) Ltd.