'Serious social consequences' of higher fares
8th April 1966
Page 35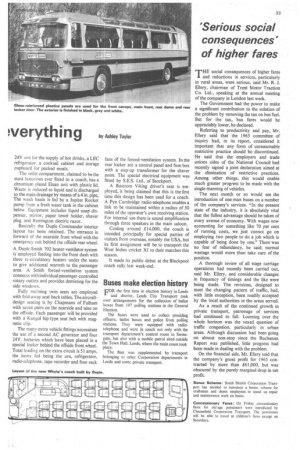 Page 35, 8th April 1966 —
'Serious social consequences' of higher fares
Close
Keywords :
THE social consequences of higher fares and reductions in services, particularly in rural areas, were serious, said Mr. R. J. Ellery, chairman of Trent Motor Traction Co. Ltd., speaking at the annual meeting of the company in London last week.
The Government had the power to make a significant contribution to the solution of the problem by removing the tax on bus fuel. But for the tax, bus fares would be appreciably lower, he declared.
Referring to productivity and pay, Mr. Ellery said that the 1965 committee of inquiry had, in its report, considered it important that any form of unreasonable restrictive practice should be discontinued. He said that the employers and trade unions sides of the National Council had recently signed a joint declaration aimed at the elimination of restrictive practices. Among other things, this would enable much greater progress to be made with the single-manning of vehicles.
The next month or so would see the introduction of one-man buses on a number of the company's services. "In the present state of the industry, it is absolutely vital that the fullest advantage should be taken of every avenue of economy. With wages now accounting for something like 70 per cent of running costs, we just cannot go on employing two people to do a job which is capable of being done by one." There was no fear of reaundancy, he said; normal wastage would more than take care of the position.
A thorough review of all stage carriage operations had recently been carried out, said Mr. Ellery, and considerable changes in frequency of timings and the like were being made. The revisions, designed to meet the changing pattern of traffic, had, with little exception, been readily accepted by the local authorities in the areas served.
As a result of the continued growth in private transport, patronage of services had continued to fall. Looming over the whole horizon was the vexed question of traffic congestion, particularly in urban areas. Although discussion had been going on almost non-stop since the Buchanan Report was published, little progress had been made in dealing with the problem.
On the financial side, Mr. Ellery said that the company's gross profit for 1965 contracted by more than £61,000, but was obscured by the purely marginal drop in net profit.