The coach wit
8th April 1966
Page 34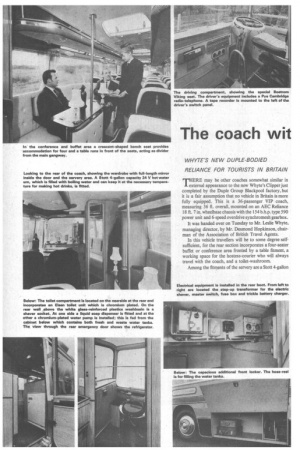 Page 35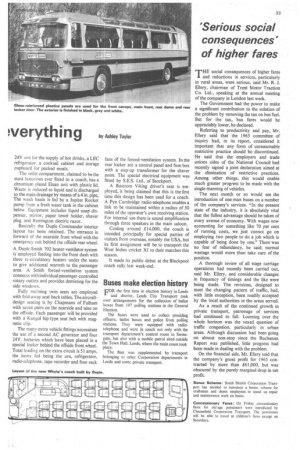 Page 34, 8th April 1966 —
The coach wit
Close
verything by Ashley Taylor WHYTE'S NEW DUPLE-BODIED RELIANCE FOR TOURISTS IN BRITAIN THERE may be other coaches somewhat similar in I external appearance to the new Whyte's Clipper just completed by the Duple Group Blackpool factory, but it is a fair assumption that no vehicle in Britain is more fully equipped. This is a 36-passenger VIP coach, measuring 36 fit. overall, mounted on an AEC Reliance 18 ft. 7 in. wheelbase chassis with the 154 b.h.p. type 590 power unit and 6-speed overdrive synchromesh gearbox. It was handed over on Tuesday to Mr. Leslie Whyte, managing director, by Mr. Desmond Hopkinson, chairman of the Association of British Travel Agents.
In this vehicle travellers will be to some degree selfsufficient, for the rear section incorporates a four-seater buffet or conference area fronted by a table fitment, a working space for the hostess-courier who will always travel with the coach, and a toilet-washroom.
Among the fitments of the server y are a Stott 4-gallon 24V urn for the supply of hot drinks, a LEC refrigerator, a cocktail cabinet and storage cupboard for packed meals.
The toilet compartment, claimed to be the most luxurious ever fitted to a coach, has a chromium plated Elsan unit with plastic lid. Waste is reduced to liquid and is discharged to the main drainage by means of a 4 in. pipe, The wash basin is fed by a Jupiter Rocket pump from a fresh water tank in the cabinet below. Equipment includes liquid soap dispenser. mirror, paper towel holder, shaver plug and Remington electric razor.
Basically the Duple Commander interior layout has been retained. The entrance is forward of the nearside front wheel with the emergency exit behind the offside rear wheel.
A Duple-Smith 702 heater-ventilator system is employed feeding into the front dash with three re-circulatory heaters under the seats to give additional warmth to the passenger area. A Smith forced-ventilation system connec is with individual passenger-controlled rotary outlets and provides demisting for the side windows.
Fully reclining twin seats are employed • with fold-away seat-back tables. The aircraftdesign seating is by Chapmans of Fulham with seven pairs on the nearside and nine on the offside. Each passenger will be provided with a Kangol hip-type seat belt with magnetic clip.
The many extra vehicle fittings necessitate the use of a second AC generator and four 24V. batteries which have been placed in a special locker behind the offside front wheel. Total loading on the extra circuit is 51 amps, the items led being the urn, refrigerator, radio-telephone, tape recorder and four rack
fans Of the forced-ventilation system. In the rear locker are a control panel and fuse box with a step-up transformer for the shaver point. The special electrical equipment was fitted by S.E.S. Ltd., of Stockport.
A Bostrom Viking driver's seat is employed, it being claimed that this is the first time this design has been used for a coach. A Pye Cambridge radio-telephone enables a link to be maintained within a radius of 50 miles of the operator's own receiving station. For internal use there is sound amplification through three speakers in the main saloon.
Costing around 114,000, the coach is intended principally for special parties of visitors from overseas, notably the USA, but its first assignment will be to transport the West Indies cricket XI to their matches this season.
It made its public debut at the Blackpool coach rally last week-end.