TORBAY POOL MARATHON CONTINUES
8th April 1966
Page 33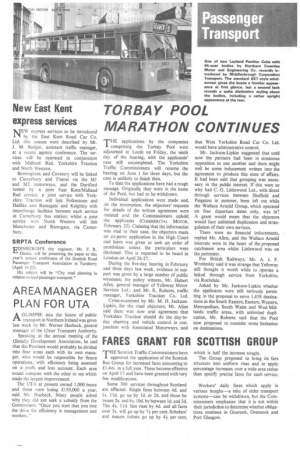 Page 33, 8th April 1966 —
TORBAY POOL MARATHON CONTINUES
Close
rr HE applications by the companies comprising the Torbay Pool were adjourned at Leeds on Friday, the ninth day of the hearing, with the applicants' case still uncompleted. The Yorkshire Traffic Commissioners will resume the hearing on June I for three days, but the case is unlikely to finish then.
To date the applications have had a rough passage. Originally they were in the name of the Pool, but had to be withdrawn.
Individual applications were made and, on the resumption, the objectors' requests for details of the written agreement were resisted and the Commissioners upheld the applicants (COMMERCIAL MOTOR, February 25). Claiming that the information was vital to their case, the objectors made an ex-parte application in the High Court and leave was given to seek an order of prohibition unless the particulars were disclosed. This is expected to be heard in London on April 26-27.
During the five-day hearing in February and three days last week, evidence in support was given by a large number of public witnesses; the policy witness, Mr. Hubert Allen, general manager of Yelloway Motor Services Ltd.; and Mr. R. Roberts, traffic manager, Yorkshire Traction Co. Ltd.
Cross-examined by Mr. M. H. JacksonLipkin, for the road objectors, Mr. Allen said there was now oral agreement that Yorkshire Traction should do the day-today charting and vehicle control in conjunction with Associated Motorways, and that West Yorkshire Road Car Co. Ltd. would have adminstrative control.
Mr. Jackson-Lipkin suggested that until now the partners had been in strenuous opposition to one another and there might well be some inducement written into the agreement to produce this state of affairs. It had been said that grouping was necessary in the public interest. If this were so why had C. G. Littlewood Ltd., with direct through services between Sheffield and Paignton in summer, been left out while the Wallace Arnold Group, which operated on four departure dates only, was in? A grant would mean that the objectors would face unlimited duplication and strangulation of their own services.
There were no financial inducements, replied Mr. Allen, and the Wallace Arnold interests were in the heart of the proposed catchment area whilst Littlewood was on the perimeter.
For British Railways, Mr. A. J. F. Wrottesley said it was strange that Yelloway still thought it worth while to operate a linked through service from Yorkshire, via Rochdale.
Asked by Mr. Jackson-Lipkin whether the applicants were still seriously persisting in the proposal to serve 1,458 destinations in the South Eastern, Eastern, Western, Metropolitan, South Wales and West Midlands traffic areas, with unlimited duplication, Mr. Roberts said that the Pool now proposed to consider some limitation on destinations.