FARES GRANT FOR SCOTTISH GROUP
8th April 1966
Page 33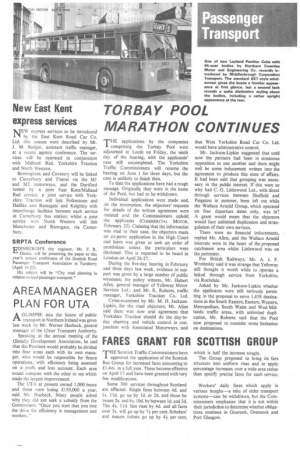 Page 33, 8th April 1966 —
FARES GRANT FOR SCOTTISH GROUP
Close
THE Scottish Traffic Commissioners have approved the application of the Scottish Bus Group for increased fares amounting to £1.4m. in a full year. These become effective on April 17 and have been granted with very few modifications.
Some 300 services throughout Scotland are affected. Single fares between 4d. and Is. 11d, go up by Id. or 2d. and those between 2s. and 4s. 10d. by between Id. and 3d. The 4s. 11d, fare rises by 4d. and all fares over 55. will go up by 74 per cent. Scholars' and season tickets go up by 44 per cent, which is half the increase sought.
The Group proposed to bring its fare structure into uniform rises and to apply percentage increases over a wide area rather than specify precise fares for each service.
Workers' daily fares which apply in various burghs—a relic of older transport systems—can be withdrawn, but the Commissioners emphasize that it is not within their jurisdiction to determine whether obligations continue in Gourock, Greenock and Port Glasgow.