Kompass Register T HE 1966 edition of the Kompass Register will
8th April 1966
Page 29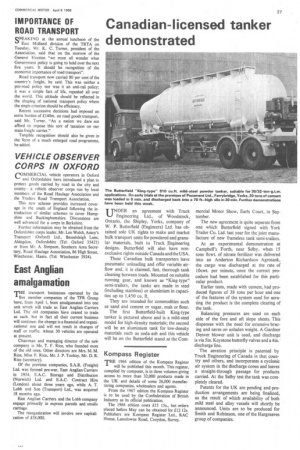 Page 29, 8th April 1966 —
Kompass Register T HE 1966 edition of the Kompass Register will
Close
be published this month. This register, compiled by computer, is in three volumes giving access to more than 32,000 products made in the UK and details of some 26,000 manufacturing companies, wholesalers and agents.
From the 1967 edition the Kompass Register is to be used by the Confederation of British Industry as its official publication.
The 1966 edition costs £15 15s., but orders placed before May can be obtained for £12 12s. Publishers are Kompass Register Ltd., RAC House, Lansdowne Road, Croydon, Surrey.
mercial Motor Show, Earls Court, in September.
The new agreement is quite separate from one which Butterfield signed with York Trailer Co. Ltd. last year for the joint manufacture of new frameless tank semi-trailers.
At an experimental demonstration at Campbell's Forth, near Selby. when 15 tons 8cwt. of nitrate fertilizer was delivered into an Anderton Richardson Agrotank, the cargo was discharged at the rate of lOcwt. per minute, once the correct procedure had been established for this particular product.
Earlier tests, made with cement, had produced figures of 38 tons per hour and one of the features of the system used for aerating the product is the complete clearing of the tank.
Balancing pressures are used on each side of the fore and aft slope sheets. This dispenses with the need for extensive bracing and saves on unladen weight. A Gardner Denver blower unit is used, and discharge is via 5in. Keystone butterfly valves and a 4in. discharge line.
The aeration principle is patented by Truck Engineering of Canada in that coun try and others, and incorporates a cyclonic air system in the discharge cones and leaves a straight-through passage for products carried. At the Selby test the tank was completely cleared.
Patents for the UK are pending and production arrangements are being finalized, as the result of which availability of both mild steel and alloy vessels will shortly be announced. Units are to be produced for Smith and Robinson, one of the Hargreaves group of companies.