East Anglian amalgamation
8th April 1966
Page 29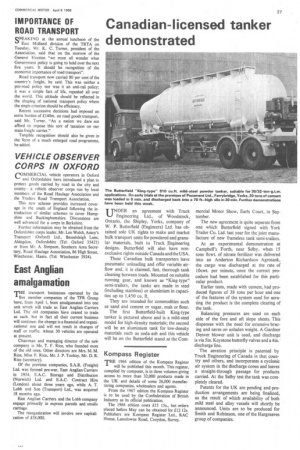 Page 29, 8th April 1966 —
East Anglian amalgamation
Close
THE transport businesses operated by the
five member companies of the TER Group have, from April 1, been amalgamated into one unit which will trade as East Anglian Carriers Ltd. The old companies have ceased to trade as such, but in fact all their current business will continue: the change is a financial and organizational one and will not result in changes of staff or traffic. About 30 vehicles are operated at present.
Chairman and managing director of the new company is Mr. T. F. Rice, who founded most of the old ones. Other directors are Mrs. M. M. Rice, Miss P. Rice, Mr. J. P. Toohey, Mr. D. R. Rice (secretary).
Of the previous companies, S.A.R. (Freight) Ltd. was formed pre-war, East Anglian Carriers in 1954, E.A.C. Storage and Distribution (Norwich) Ltd. and E.A.C. Contract Hire (London) about three years ago, while A. T. Lobb and Son (Transport) Ltd., was acquired 18 months ago.
East Anglian Carriers and the Lobb company engage primarily in express parcels and smalls carriage.
The reorganization will involve new capitalization of £58,000.