Ministry System on GV9s criticized
8th April 1966
Page 28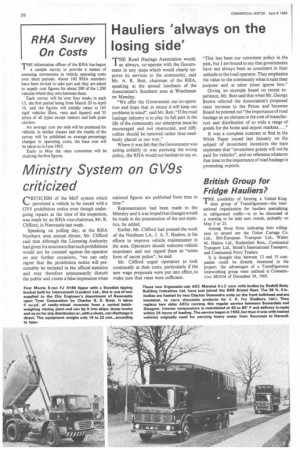 Page 28, 8th April 1966 —
Ministry System on GV9s criticized
Close
CRITICISM of the MoT system which I.—, permitted a vehicle to be issued with a GV9 prohibition notice even though undergoing repairs at the time of the inspection, was made by an RHA vice-chairman, Mr. R. Clifford, in Newcastle last week.
Speaking on polling day, at the RHA Northern area annual dinner, Mr. Clifford said that although the Licensing Authority had given his assurancethat such prohibitions would not be counted against the operator on any further occasions, "we can only regret that the prohibition notice will presumably be included in the official statistics and may therefore unnecessarily disturb the public and create a false impression when national figures are published from time to time."
Representation had been made to the Ministry and it was hoped that changes would be made in the presentation of the test statistics, he added.
Earlier, Mr. Clifford had praised the work of the Northern LA, J. A. T. Hanlon, in his efforts to improve vehicle maintenance in the area. Operators should welcome vehicle examiners and not regard them as "some form of secret police", he said.
Mr. Clifford urged operators to look continually at their costs, particularly if the new wage proposals were put into effect, to make sure that rates were sufficient.