Hauliers 'always on the losing side'
8th April 1966
Page 28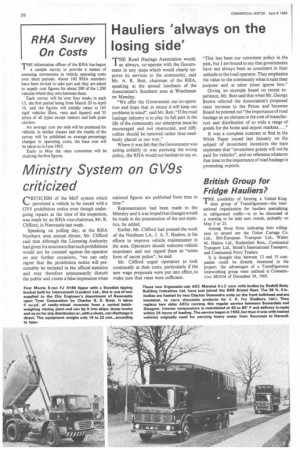 Page 28, 8th April 1966 —
Hauliers 'always on the losing side'
Close
THE Road Haulage Association would, as always, co-operate with the Government in any steps which would clearly improve its services to the community, said Mr. A. R. Butt, chairman of the RHA, speaking at the annual luncheon of the Association's Southern area at Winchester on Monday.
"We offer the Government our co-operation and hope that in return it will keep our problems in mind", said Mr. Butt. "If the road haulage industry is to play its full part in the life of the community our enterprise must be encouraged and not obstructed, and difficulties should be removed rather than needlessly placed in our way."
Where it was felt that the Government was acting. unfairly or was pursuing the wrong policy, the RHA would not hesitate to say so.
"This has been our consistent policy in the past, but I am bound to say that governments have not always been as consistent in their attitude to the road operator. They emphasize his value to the community when it suits their purpose and at other times ignore him."
Giving an example based on recent experience, Mr. Butt said that when Mr. George Brown referred the Association's proposed rates increase to the Prices and Incomes Board he pointed out "the importance of road haulage as an element in the cost of manufacture and distribution of so wide a range of goods for the home and export markets...."
It was a complete contrast to find in the White Paper issued last January on the subject of investment incentives the bare statement that "investment grants will not be paid for vehicles", and no reference whatever that time to the importance of road haulage in promoting exports.