International Group Rejects RHA Reorganization
8th April 1966
Page 26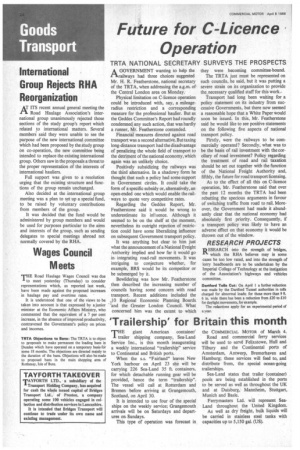 Page 26, 8th April 1966 —
International Group Rejects RHA Reorganization
Close
AITS recent annual general meeting the Road Haulage Association's international group unanimously rejected those sections of the study group's report which related to international matters. Several members said they were unable to see the purpose of the new international committee which had been proposed by the study group on co-operation, the new committee being intended to replace the existing international group. Others saw in the proposals a threat to the proper representation of the interests of international hauliers.
Full support was given to a resolution urging that the existing structure and functions of the group remain unchanged.
Also decided at the. international group meeting was a plan to set up a special fund, to be raised by voluntary contributions from members of the group.
It was decided that the fund would be administered by group members and would be used for purposes particular to the aims and interests of the group, such as sending delegates to special meetings abroad not normally covered by the RHA.