Containers: fact or fiction?
8th April 1966
Page 25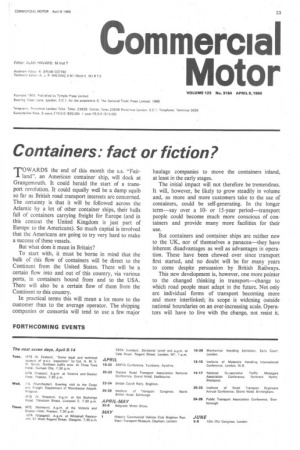 Page 25, 8th April 1966 —
Containers: fact or fiction?
Close
TOWARDS the end of this month the s.s. "Fair-1land". an American container ship, will dock at Grangemouth. It could herald the start of a transport revolution. It could equally well be a damp squib so far as British road transport interests are concerned. The certainty is that it will be followed across the Atlantic by a lot of other container ships, their hulls full of containers carrying freight for Europe (and in this context the United Kingdom is just part of Europe to the Americans). So much capital is involved that the Americans are going to try very hard to make a success of these vessels.
But what does it mean in Britain?
To start with, it must be borne in mind that the bulk of this flow of containers will be direct to the Continent from the United States. There will be a certain flow into and out of this country, via various ports, in containers bound from and to the USA. There will also be a certain flow of them from the Continent to this country.
In practical terms this will mean a lot more to the customer than to the average operator. The shipping companies or consortia will tend to use a few major haulage companies to move the containers inland, at least in the early stages.
The initial impact will not therefore be tremendous. It will, however, be likely to grow steadily in volume and, as more and more customers take to the use of containers, could be self-generating. In the longer term—say over a 10or 15-year period—transport people could become much more conscious of containers and provide many more facilities for their use.
But containers and container ships are neither new to the UK, nor of themselves a panacea—they have inherent disadvantages as well as advantages in operation. These have been chewed over since transport first started, and no doubt will be for many years to come despite persuasion by British Railways.
This new development is, however, one more pointer to the changed thinking in transport—change to which road people must adapt in the future. Not only are individual forms of transport becoming more and more interlinked; its scope is widening outside national boundaries on an ever-increasing scale. Operators will have to live with the change, not resist it.