Atkinson Developments
7th September 1956
Page 64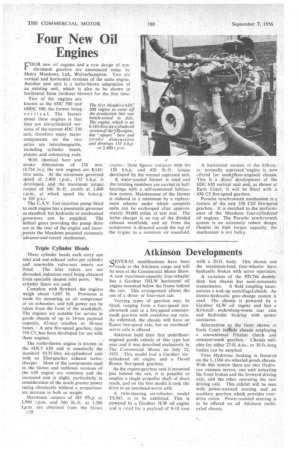 Page 64, 7th September 1956 —
Atkinson Developments
Close
-QEVER AL modifications have been
n-lade to the Atkinson range and will be seen at the Commercial Motor Show. A new maximum-capacity four-wheeler has a Gardner 5HLW horizontal oil engine mounted below the frame behind the cab. This arrangement allows the use of a threeor four-man cab.
Varying types of gearbox may be fitted, ranging from a four-speed synchromesh unit to a five-speed constantmesh gearbox with overdrive top ratio. As exhibited, the chassis will have an Eaton two-speed axle, but an overhead-) worm axle is offered.
Atkinson built their first underfloorengined goods vehicle of this type last year and it was described exclusively in The Commercial Motor on July 22, 1955. This model had a Gardner sixcylindered oil engine and a David Brown five-speed gearbox.
As the engine-gearbox unit is mounted just behind the cab, it is possible to employ a single propeller shaft of short reach, and on the first model it took the drive to an overhead-worm axle.
A twin-steering six-wheeler, model TS.965, is to be exhibited. This is powered by a Gardner 5LW oil engine and is rated for a payload of 9-10 tons with a 20-ft. body. This chassis and the maximum-load four-wheeler have hydraulic brakes with servo operation.
A variation of the PD.746 doubledeck bus chassis has semi-automatic
transmission. A fluid coupling incorporates a lock-up centrifugaLclutch. An electro-hydraulic gear-change system is used. The chassis is powered by a Gardner 6LW oil engine and has a Kirkstall underslung-worm rear axle_ and hydraulic braking with power assistance.
Alternatives to the form shown at Earls Court inctude chassis employing a conventional friction clutch and constant-mesh gearbox. Chassis suitable for either 27-ft. 6-in.or 30-ft.-long bodies can be supplied.
Twin Hydrovac braking is featured on the L.1366 six-wheeled goods chassis. With this system there are two Hydrovac vacuum servos, one unit actuating the front brakes and the forward driving axle, and the other operating the rear driving axle. This exhibit will be seen with power-assisted steering and an auxiliary gearbox which provides overdrive ratios. Power-assisted steering is to be offered on all Atkinson multiaxled chassis.