New Tractor Steers on all Wheels
7th September 1956
Page 46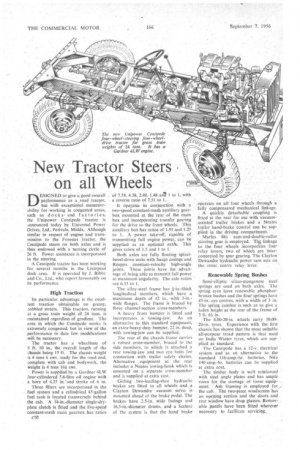 Page 46, 7th September 1956 —
New Tractor Steers on all Wheels
Close
• DESIGNED to give a good overall performance as a _road tractor, but with exceptional manceuvrability for working in congested areas,
• such as docks and factories, the Unipower Centipede ' tractor is announced today by Universal Power Drives, Ltd., Perivale, Middx. Although similar in respect of engine and transmission to the Forester :tractor, the Centipede steers on both axles and is thus endowed with a turning circle of 26 ft. Power assistance is incorporated in the steering.
A Centipede tractor has been working for several months in the Liverpool dock area. it is operated by I. Bibby and Co., Ltd.. who report favourably on its performance.
High Traction
Its particular advantage is the excellent traction obtainable on greasy, :obbled streets. This traction, running at a gross train weight Of 24 tons, is maintained regardless of gradient. The area in which the Centipede works is extremely congested, but in view of the performance to date few modifications will be necessary.
The tractor has a wheelbase of S ft. 10 in., the overall length of the chassis being 15 ft. The chassis weight is 4 tons 6 cwt. ready for the road and, complete with cab and bodywork, the weight is 4 tons 164 cwt.
Power is supplied by a Gardner 4LW four-cylindered 5.6-litre oil engine with a bore of 4.25 in."and stroke of 6 in.
Three filters are incorporated in the fuel system and a cylindrical 45-gallon fuel tank is located transversely behind the cab. A 14-in.-diameter single-dry. plate clutch is fitted and the five-speed constant-mesh main gearbox has ratios c10 of 7.58, 4.38, 2.40, 1:48 an Ito 1, with a reverse ratio of 7.51 to L It operates in conjunction with a two-speed constant-mesh auxiliary gearbox mounted at the rear of the main box and incorporating transfer gearing for the drive to the front wheels. This auxiliary box has ratios of 1.91 4nd 1.25 to 1. A power take-off, Capable of transmitting full engine power, can be supplied as an optional exthe This gives ratios of 1.5 and Ito I.
Both axles are fully floating spiralbevel-drive units with banjo casings and Rzeppa constant-velocity high-angle joints. These joints have the advantage of being able to transmit full power at maximum angularity. The axle ratios are 6.33 to 1.
The alloy-steel frame has +-in.-thick longitudinal members, which have a maximum depth of 12 in., with 3-in.wide flanges. The frame is braced by three channel-section cross-members.
A heavy front bumper is fitted and incorporates a towing-jaw. As an alternative to this standard equipment, an extra-heavy-duty bumper. 22 in. deep, with towing-jaw can be supplied.
The rear of the chassis frame carries a robust cross-member, braced to the side members. to which is attached a rear towing-jaw and two eye bolts for connection with trailer safety chains. Alternative equipment at the rear includes a Neates towing-hook which is mounted on a separate cross-member and is supplied at extra cost.
Girling two-leading-shoe hydraulic brakes are fitted to all wheels and a Clayton Dewanclre vacuum servo is mounted ahead of the brake pedal. The brakes have 2.5-in, wide facings and 16.5-in.-diameter drums, and a feature of the system is that the hand brake operates on all four wheels through a fully compensated mechanical linkage.
A quickly detachable coupling is fitted at the rear for use with vacuumassisted trailer .brakes and a Neates trailer hand-brake control can be supplied in the driving compartment. "
Marks 861 cam-and-double-roller steering gear is employed. T11; linkage to the four wheels incorporates four relay levers, two of which arc interconnected by spur gearing. The Clayton Dewandre hydraulic power ram acts on the inner, centre relay lever.
Renewable Spring Bushes
Semi-elliptic silico-manganese steel springs are used on both axles. The spring eyes have renewable phosphorbronze bushes and the four springs have 45-in, eye centres, with a width of 3 in. The spring camber is such as to give a laden height at the rear of the frame of 3 ft. 61 in.
The 6.00-20-in, wheels carry 10.0020-in, tyres. Experience with the first chassis has shown that the most suitable all-purpose trea& pattern is that used on India Winter tyres, which are supplied as standard.
The Centipede has a 12-v. electrical system and as an alternative to the standard 116-empehr. batteries, Nile l40-amp.-hr. batteries can be supplied at extra cost.
The timber body is well reinforced with steel angle plates and has ample room for the stowage of loose equipment. Ash framing is employed for _ the cab. The two-piece windscreen has an opening section and the doors and rear window have drop glasses. Removable panels have been fitted wherever necessary to facilitate servicing..