Bray Produce Track-layer
7th September 1956
Page 45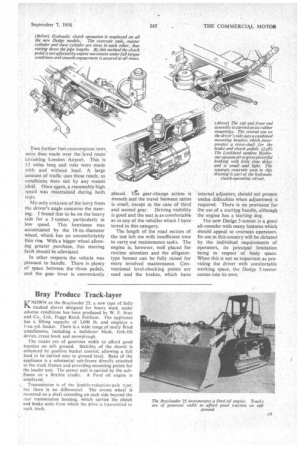 Page 45, 7th September 1956 —
Bray Produce Track-layer
Close
fe-NOWN as the Brayloader 25, a new type of fully •
tracked shovel designed for heavy work under adverse conditions has been produced by W. E. Bray and Co., Ltd., Faggs Road, Feltham. The appliance has a lifting capacity of 3,000 lb. and employs a 1-cu.-yd. bucket. There is a wide range of easily fitted attachments, including a bulldozer blade, fork-lift device, crane hook and snowplough.
The tracks ,are of generous width to afford good traction on soft ground. Stability of the shovel is enhanced by positive bucket control, allowing a full load to be carried near to ground level. Basis of the appliance is a substantial sub-frame directly attached to the track frames and providing mounting points for the loader unit. The power unit is carried by the subframe on a flexible cradle. A Ford oil engine is employed.
Transmission is of the 'double-reduction-axle type, but there is no differential. The crown wheel is mounted on a shaft extending on each side beyond the rear transmission housing, which carries the clutch and brake units from which the drive is transmitted to each .track.