No Official Support for Camp Service
7th September 1956
Page 40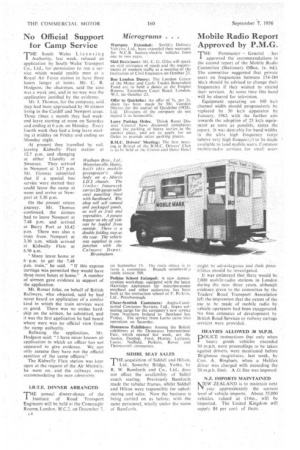 Page 40, 7th September 1956 —
No Official Support for Camp Service
Close
THE South Wales Licensing Authority, last week, refused an application by South -Wales Transport Co., Ltd., for permission to run a service which would enable men at a Royal Air Force station to have three hours longer at home. Mr. C. R. Hodgson, the chairman, said the case was a weak one. and in no way was the application justified by the evidence.
Mr. 1. Thomas, for the company, said they had been approached by 30 airmen living in the Cardiff and Newport areas. Three times a month they had weekend leave starting at noon on Saturday and ending at 6 a.m. on Monday. Every fourth week they had a long leave starting at midday on Friday and ending on Monday night, At present they travelled by rail. leaving Kidwelly Flats station at 12.7 p.m. and changing at either Llaneliy or Swansea. They arrived in Newport at 3.17 p.m. Mr. Thomas submitted that if a special bus service were started they could leave the camp at noon and arrive at Newport at 3.30 p.m.
On the present return journey. Mr. Thomas continued, the airmen had to leave Newport at 7.48 p.m. and arrived at Burry Port at 10.42 p.m. There was also a train from Newport at 3.30 a.m._ which arrived at Kidwelly Flats at 6.50 am.
" Many leave home at 6 'p.m. to get the 7.48 p.m train,he said. "If this express carriage was permitted they would have three more hours at home." A number of airmen gave evidence in support of the application.
• Mr. Rosser John, on behalf of British Railways, who objected, said he had never heard an application of a similar kind in which the train services were as good. There was no undue hardship on the airmen, he submitted, and it was the first application he had heard where were was no official view from the camp authenity.
Refusing the application,. Mr. Hodgson said: " I have never known an application in which an officer has not appeared to give evidence. We can only assume they have not the official sanction of the camp officers."
The Kidwelly Flats station was kept open at the request of the Air Ministry. he went on, and the railways were accommodating the men inimirabiy.
Warlham Bros., Ltd.. Waterloovilk, ftants, built this mobile greengrocer's shop body on a Morris LD.2 chassis. The i tribe r framework carries 20-gauge mildsteel panelling lined with hardboard. rite slwp will sell canned and packaged goods, as well as fruit and vegetables. A potato hopper on the off side can be loaded from (nitride. There is a double folding step at the rear. The vehicle was supplied in conjunction with the Colmore Depot, Birmingham.
I.R.T.E. DINNER ARRANGED
THE annual dinner-dance of the Institute of Road Transport Engineers will be held at the Connaught Rooms, London. W.C.2. on December 7.
04