Plymouth Fares U p:' Blackpool to Seek More Revenue ?
7th September 1956
Page 39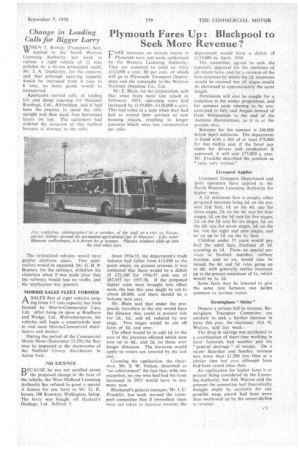 Page 39, 7th September 1956 —
Plymouth Fares U p:' Blackpool to Seek More Revenue ?
Close
FA RE increases on certain routes in
Plymouth were, last week, authorized by the Western Licensing Authority. They are expected to yield an extra £113,000 a year. 80 per cent. of • which will Q0 to Plymouth Transport Department and the remainder to the Western National Omnibus Co., Ltd.
Mr. E. Blain. for the corpoCation, said that since fares were last raised in February, 1953. operating costs bad increased by.£119,000—.£120,000 a year.. This had come at a time when they had had to extend their. services to new housing 'estates, . resulting in longer journeys Which were less remunerative per mile.
Since 1954-55, the department's. trade balance had fallen from £15,696 to the point where, on present revenue,, it was estimated that there would be a deficit of £52,100 for 1956-57 . and one of £87,455 for 1957-58. If the proposed higher 'rates were brought into -effect soon, the loss this year might be cut to about £8.000, and there Should be a balance next year.
Mr. Blain said that under the proposals, travellers in the city would have the distance they could at preSent ride for 2d., 3d., and 4d. reduced by one stage. Two stages would be cut off fares of 5d. and over. . .
The effect would be to add Id. to the Cost of the journeys affected which now cost .up to 4d.. and 2d, on those over longer distances. The increases would apply to routes not covered by the last rise.
Granting the application, the chairman, Mr. S. W. Nelson, described as "an achievement" the fact that,, with one exception, no one who had had his fares increased in 1953 would have to pay more now.
Blackpool's general manager, Mr. J. C. Franklin. last week warned the transport committee that if immediate steps were not taken to increase revenue the department would have a deficit of £219,000 by April, 1958.
The committee agreed to seek the council's approval for' the abolition of all return fares, and for a revision of the fare structure by Which the 2d. minimum would be retained hut all stages would be shortened to approximately the same length.
Permission will also be sought for a . reduction in the winter programme, and for summer peak running to be concentrated in July and August instead of from Whitsuntide to the end of the Autumn illuminations, as it is at the present time.
Revenue for the summer is £46,000 below April estimates. The department is faced with a bill of at least £75,000 for .bus bodies and, if the ratest ,pay claim for drivers and conductors is approved, it will cost £75,000 a year. Mr. Franklin described the position as "very, very serious."
Liverpool Applies
Liverpool Transport Department and joint operators have applied to the North Western Licensing Authority for higher rates, A 2d. minimum fare is sought, other proposed increases being fd. on-the pre sent 2+d. 'fare, ld. on the 4d, rate for three stages. 2d. on the 4d. rate for four stages, Id. on the 5d. rate for five stages, 2d. on the 5d. rate for six stages, Id. on the 6d. rate for seven stages, 2d. on the 6d. rate for eight and nine 'stages, and so on up to 1d. on the Is. fare.
Children under 15 years would pay half the adult fare, fractiOns of Id. counting as Id. Fares on special services to football matches, ,railway stations. and so on, would also he raised, the 4d.. and 5d. rates going up to 6d., with generally similar increases up to the present maximum of Is., Which 'would be Is. 2d.
Some fares may be lowered to give : the same rate between two points • Common to various routes.
Birmingham " Sticks " Despite a serious fall in revenue. Birmingham Transport Committee are unlikely to seek a further increase in fares this year, the chairman, Ald. H. Watton, said last week..
The drop in takings was attributed to a combination of short-time working in local factories, bad weather and the " general shortage" of money. On a recent Saturday. and Sunday, revenue was more than £1,700 less than at a similar time last year, althouih fares had.' been raised since then.
An application for higher fares is at present being considered by the Licensing Authority, but Add. Watton said the amount the committee had theoretically thought might be available for any possible wage award had been more than swallowed up by the recent decline in 'revenue.