Change in Loading Calls for Bigger Lorry
7th September 1956
Page 39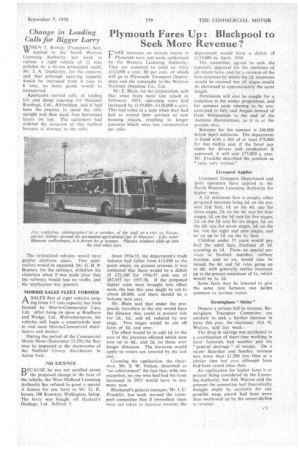 Page 39, 7th September 1956 —
Change in Loading Calls for Bigger Lorry
Close
WHEN T. Rowley (Transport), Sale, VV applied to the North Western Licensing AUthority last week to replace a rigid vehicle of 21tons unladen by a 41-ton articulated outfit, Mr. J. A. Dunkerley, for the concern, said that although carrying capacity would be increased from 6 tons to 8 tons, no more goods wottld be transported.
Applicants carried rolls of roofing felt. and damp COLII'SitIQ for National Roofings, Ltd., Ahrincham, and it had been the practice to stand the rolls Upright and then stack four horizontal layers On top. The customers had ordered the cessation of this method. because of damage to the The articulated vehicles would have greatef platform space. Two "semitrailers would be operated. Mr. G. H. P. I3eames, for the railways, Withdrew his . objection when it was made .Clear that the railways would lose no traffic. and the-application Was granted.
MORRIS SALES FLEET FORMED A SALES fleet of eight vehicles ranging from 1-7 tons capacity has been formed by Morris-Commercial Cars, Ltd. After being on show at Bradburn and Wedge, Ltd" Wolverhampton, the vehicles will begin a countrywide tour v,isit most Morris-Commercial distributors and dealers.
During the period of the Commercial Motor Show (September 21-29), the fleet may be inspected at the showrooms of the Nuffield 'Group distributors in Acton Vale.
NO LICENCE
BECAUSE he was not satisfied about the proposed change in the base of the vehicle, the West Midland Licensing Authority has refused to grant a special A licence for one lorry to Mr. G. R. Inions. 108 Roseway, Wellington, Salop. The lorry was bought off Hackett's Haulage, Ltd.. Salford, 5.