Clearing House Refused New A Licence : 10 Objectors
7th September 1956
Page 37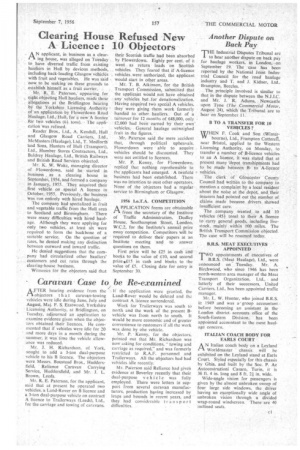 Page 37, 7th September 1956 —
Clearing House Refused New A Licence : 10 Objectors
Close
A N applicant, in business as a clearing house, was alleged on Tuesday to have diverted traffic from existing hauliers in Hull by devious methods, . including back-loading Glasgow vehicles with fruit and Vegetables. He was said now to he seeking on these grounds to establish himself as a fruit carrier. . Mr. 12,. E. Paterson," appearing for , eight objecting Hull hauliers, Made these • allegations at the Bridlington hearing by the Yorkshire Licensing Authority of an application by Flowerdown Road Haulage; Ltd.,-Hull, for a new A licence for two vehicles (6+ tons). The application was refused.
Reader Bros., Ltd., A. Kendall, Hull and Glasgow Road Carriers, Ltd., Mc Masters (Haulage), Ltd., T. Medforth' and Sons, Hunters of Hull (Transport), Ltd., Humber Stores Contractors, Ltd., Bald rey Haulage, Ltd., British Railways and British Road Services objected.
Mr. K. W. Wake, managing director of Flowerdown, said he started in business as a clearing house in September, 1954, and formed a company in January, 1955. They acquired their first vehicle on special A licence in October, 1955. Previously,. the' business was run entirely with hired haulage.
The company had speeialized in fruit and vegetable traffic from the Hull area to Scotland and Birmingham. There were many difficulties with hired haulage, Although they were applying for only two vehicles, at least six were required to form the backbone of a suitable service. On the question of rates, he denied making any distinction between outward and inward traffic.
• He denied suggestions that the company had circularized other hauliers' customers and cut rates through the clearing-house business.
Witnesses for the objectors said that their Scottish traffic had been absorbed by Flowerdown. Eighty per cent. of it went . as return loads on Scottish vehicles. They feared that if A-licence vehicles were authorized, the applicant would start in other areas.
Mr.• T. B. Atkinson, for the British Transport Commission, submitted that the applicant would not have obtained any vehicles but for denationalization. Having acquired two special A vehicles, they were giving them work formerly handed to other hauliers. Out of a turnover for 12 months of £48,000, only £2,000 had been earned by their own' vehicles.. General haulage outweighed fruit in the figures. • Mr, Paterson said the mere accident that, through political upheavals. Flowerdown were able to acquire vehicles should be discounted. They were not entitled to licences.
Mr. P. Kenny, for Flowerdown, replied that nothing reprehensible to the applicants had emerged. A twofold business had been established. There was no intention to oust other operators. None of the objectors had a regular service to Birmingham or Glasgow.
1956 Lo.T.A. COMPETITION
APPLICATION forms are obtainable from the secretary of the Institute of Traffic Administration, Dudley House, Southampton Street, London, W.C.2, for the Institute's annual prize essay competition. Competitors will be required to deliver their papers at an Institute • meeting and to answer questions on them.
First prize will be £25 in cash and books to the value of £10, and second prize e£15 in cash and bboks to the value of O. Closing date for entry is September 30.