"No Garage on Fast Road"—M.o.T.
7th September 1956
Page 34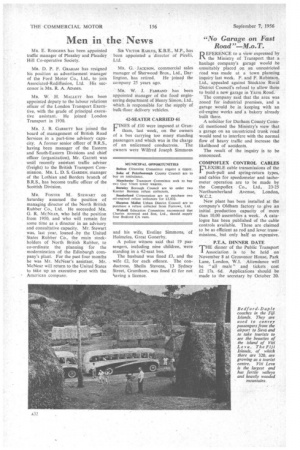 Page 34, 7th September 1956 —
"No Garage on Fast Road"—M.o.T.
Close
DEFERENCE to a view expressed by L\ the Ministry of Transport that a haulage company's garage would be unsuitably placed on an unrestricted road was made at a town planning inquiry last week. F. and F. Robinson, Ltd., appealed against Stockton Rural District Council's refusal to allow them to build a new garage in Yarm Road.
The company said that the area was zoned for industrial premises, and a garage would be in keeping with an oil-engine works and a bakery already built there.
A solicitor for Durham County Council mentioned the Ministry's view that a garage on an unrestricted trunk road would tend to interfere with the normal flow of heavy traffic and increase the likelihood of accidents.
The result of the inquiry is to be announced.
COMPOFLEX CONTROL CABLES FLEXIBLE cable transmissions of the push-pull and spring-return types, and cables for speedometer and tachometer operation are to be made by the Compoilex Co., Ltd., 23-25 Northumberland Avenue, London, W.C.2.
New plant has been installed at the company's Oldham factory to give an initial production capacity of more than 10,00 assemblies a week. A catalogue has been published of the cable controls available. These are claimed to be as efficient as rod and lever transmissions,. but only half as expensive.
P.T.A. DINNER DATE
THE dinner of the Public Transport Association is to be held on November 8 at Grosvenor House, Park Lane, London, W.1. Attendance will be "all male" and tickets cost £2 17s. 6d. Applications should be made to the secretary by October 20.