MARKET OPERATORS HIT BY VEHICLE BAN
7th September 1956
Page 32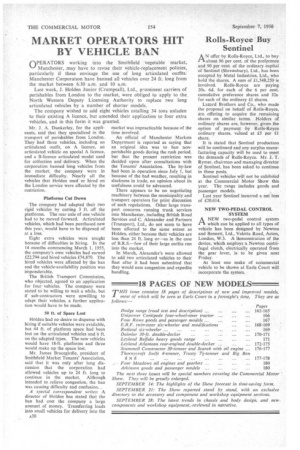 Page 32, 7th September 1956 —
MARKET OPERATORS HIT BY VEHICLE BAN
Close
nPERATORS working into the Smithfield vegetable market, Manchester, may have to revise their vehicle-replacement policies, particularly if these envisage the use of long articulated outfits. Manchester Corporation have banned all vehicles over 24 ft. long from the market between 6,30 a.m. and 10 a.m.
Last week, J. Holden Junior (Crumpsall), Ltd., prominent carriers of perishables from London to the market, were obliged to apply to the North Western Deputy Licensing Authority to replace two long articulated vehicles by a number of shorter models.
The company wished to add eight vehicles totalling 34 tons unladen to their existing A licence, but amended their application to four extra vehicles, and in this form it was granted.
Mr. J. A. Dunkerley, for the applicants, said that they, specialized in the transport of perishables from London.. They had three vehicles, including an articulated outfit, on A licence, an articulated vehicle on special A licence, and a B-licence articulated model used for collection and delivery. When the corporation, banned long vehicles from the market; the company were in immediate difficulty. Nearly all the, vehicles that Holden used or hired on the London service were affected by the restriction.
Platforms Cut Down The company had adapted their two rigid vehicles by cutting 3 ft. off the platforms. The rear axle of one vehicle had to be moved forward. Articulated vehicles, which had been purchased new this year, would have to be disposed of at a loss.
Eight extra vehicles were sought because of difficulties in hiring. In the 14 months commencing March 1, 1955, the company's own vehicles had earned £22,794 and hired vehicles £74,870. The hired vehicles were affected by the ban and the vehicle-availability position was imponderable.
The British Transport Commission, who objected, agreed to an application for fourvehicles. The company were stated to be willing to wait a while, but if sub-contractors were unwilling to adapt their vehicles, a further application would have to be made.
50 ft. of Space Lost Holden had no desire to dispense with hiring if suitable vehicles were available, but 44 ft. of platform space had been lost on the articulated 'vehicles and 6 ft. on the adapted types. The new vehicles would have 18-ft. platforms and three would make up the space lost.
Mr. James Bracegirdle, president of Smithfield Market Tenants' Association, said that it was only after long discussion that the corporation had allowed vehicles up to 24 ft. long to continue in the market. Although intended to,relieve congestion, the ban was causing difficulty and confusion. , A special correspondent writes: A director of Holden has stated that the ban had cost the company a large amount, of money. Transferring loads into small vehicles for delivery into the .30 market was impracticable because of the time involved.
An official of Manchester Markets Department is reported as saying that an original idea was to ban nonperishable goods during the rush period, but that the present restriction was decided upon after consultations with the Tenants' Association. The by-law had been in operation since July 1, but because of the bad weather, resulting in slackness in trade, no opinion about its usefulness could be advanced.
There appears to be no negotiating machinery between the municipality and transport operators for prior discussion of such regulations. Other large transport concerns running trunk services into Manchester, including British Road Services and C. Alexander and Partners (Transport), Ltd., do not seem to have been affected to the same extent as Holden, either because their vehicles are less than 24 ft. long or—as in the case of R.R.S.—few of their large outfits run into the market.
In March, Alexander's were allowed to add two articulated vehicles to their fleet after it had been submitted that they would ease congestion and expedite handling.