Still In Service After 23 Years
7th October 1930
Page 67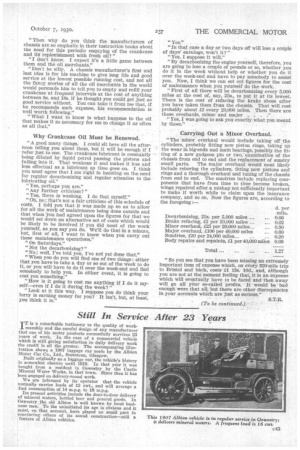 Page 67, 7th October 1930 —
Still In Service After 23 Years
Close
TT is a remarkable testimony to the quality of work!. manship and the careful design of any manufacturer that one of his motor products successfully survives 23 years of work. In the case of a commercial vehicle which is still giving satisfaction in daily delivery work the credit is all the greater. The accompanying illustration shows a 1907 luggage car made by the Albion Motor Car Co., Ltd., Scotstoun, Glasgow.
Built originally as a luggage car, the vehicle's history is semewhht obscure until 1919. In that year it was bought from a resident in Oswestry by the Castle Mineral Water Works, in that town. Since then it has been engaged on delivery-round work.
We are informed by its operator that the vehicle normally carries loads of 12 cwt., and will average a fuel consumption of 14 m.p.g. to 16 m.p.g.
Its present activities include the door-to-door delivery of mineral waters, bottled beer and general goods. In Oswestry the old Albion is well known by local business men. To the uninitiated its age is obvious and it must, on that account, have played no small part in convincing others of its sound construction—still a feature of Albion vehicles.