ITEMS OF NEWS IN A FEW LINES
7th October 1930
Page 65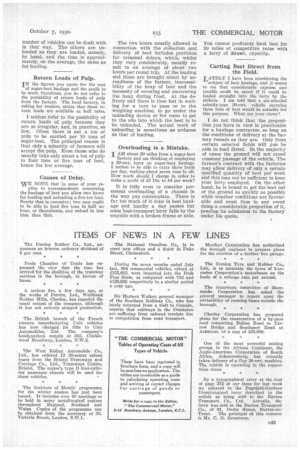 Page 65, 7th October 1930 —
ITEMS OF NEWS IN A FEW LINES
Close
The Dunlop Rubber Co., Ltd., announces an interim ordinary dividend of 6 per cent.
Poole Chamber of Trade has expressed the view that the time has arrived for the abolition of the tramway services in the borough, in favour of buses.
A serious fire, a few days ago, at the works of Ferrite, Ltd., Weldbank Rubber Mills, Chorley, has impeded the usual output of the company, although it has not entirely stopped production.
The British branch of the French concern manufacturing TJnic vehicles has now changed its title to Unic Automobiles, Ltd. The company's headquarters remain at 303, Cricklewood Broadway, London, N.W2.
The West Riding Automobile Co., Ltd., has ordered 12 30-seater saloon buses from the Bristol Tramways and Carriage Co., Ltd., Tramways Centre, BristoL The maker's type B four-cylinder passenger chassis will be used for these vehicles. • The Institute of Metals' programme for the winter session has just been issued. It includes over 40 meetings to be held in many metallurgical centres throughout England, Scotland and Wales. Copies of the programme can be obtained from the secretary at 36, Victoria Street, London, S.W.1. The National Omnibus Co., is to erect new offices and a depot in Duke Street, Chelmsford.
During the seven months ended July last, 894 commercial vehicles, valued at £131,013, were imported into the Irish Free State, as compared with 710 and £129,963 respectively in a similar period a year ago.
Sir Herbert Walker, general manager of the Southern Railway Co., who has lately returned from a visit to Canada, reports that railways in the Dominion are -suffering from reduced receipts due to competition from road transport.
Merthyr Corporation has authorized the borough engineer to prepare plans for the erection of a further bus garage.
The Dunlop Tyre and Rubber Co., Ltd., is to maintain the tyres of Lancaster Corporation's motorbuses on the basis of a mileage rate per annuni.
The tramways committee of Morecambe Corporation has asked the general manager to report upon the advisability of running buses outside the borough.
Chorley Corporation hag prepared plans for the construction of a by-pass road connecting Bolton Road to Yarrow Bridge and Southport Road at Ackhurst. at a cost of £50,000.
One of the most powerful mining groups in the African Continent, the Anglo-American Corporation of South Africa, Johannesburg, has recently taken delivery of a Guy 30-cwt. machine. The vehicle is operating it the coppermine areas.
By a typographical error at the foot of page 212 of our issue for last week we referred to the Pagefield-Gardner Diesel-engined lorry described in the article as being sold to the Barton Transport _ Co., Ltd. Actually, the lorry was sold to the Burton Transport Co., of 91, Derby Street, Burton-onTrent. The principal of this concern is Mr. C. G. Greatorex.