THE "UNITED" ORDERS T.S. EXPRESS COACHES.
7th October 1930
Page 62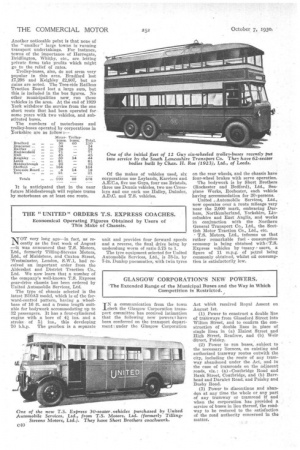 Page 62, 7th October 1930 —
THE "UNITED" ORDERS T.S. EXPRESS COACHES.
Close
Economical Operating Figures Obtained by Users of This Make of Chassis.
NTOT very long ago—in fact, as re cently as the first week of August —it was announced that T.S. Motors, Ltd,, formerly Tilling-Stevens Motors, Ltd., of Maidstone, and Caxton Street, Westminster, London, S.W.1, had received an important order from tho Aldershot and District Traction Co., Ltd. We now learn that a number of the company's well-known T.S. Express gear-drive chassis has been ordered by United Automobile Services, Ltd.
The type of chassis seleeted is the latest B10A2 model, which is of the forward-control pattern, having g wheelbase of 16 ft. and a frame length suitable for bodywork accommodating up to 32 passengers. It has a four-cylindered engine with a bore of 41 ins, and a stroke of 54 ins., this developing
70 b.h.p. The gearbox is a separate
unit and provides four forward speeds and a reverse, the final drive being by underslung worm of ratio 5.75 to 1.
The tyre equipment selected for -United Automobile Services, Ltd., is 38-in, by 7-in. Dunlop pneumatics, with twin tyres
on the rear wheels, and the chassis have four-wheel brakes with servo operation.
The bodywork is by Short Brothers (Rochester and Bedford), Ltd., Seaplane Works, Rochester, each vehicle having accommodation for 30.,persons.
United ...Automobile Services, Ltd., now operates over a route mileage very near the 2,000 mark, embracing Durham, Northumberland, Yorkshire, Lincolnshire and East Anglia, and works in conjunction with the Northern General Transport Co., Ltd., the Scottish Motor Traction Co., Ltd., etc.
T.S. Motors, Ltd., informs us that rather remarkable fuel consumption economy is being obtained with vT.S. Express vehicles by froany.users, a figure of 11 m.p.g. of petrol being commonly obtained, whilst oil consumption is satisfactorily low.