GLASGOW CORPORATION'S NEW POWERS.
7th October 1930
Page 62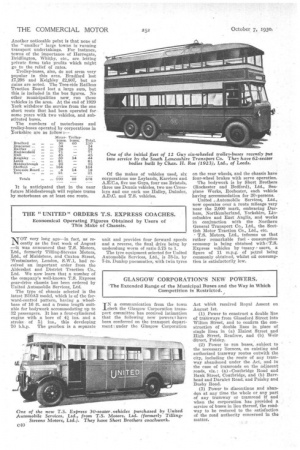 Page 63
Page 62, 7th October 1930 —
GLASGOW CORPORATION'S NEW POWERS.
Close
'The Extended Range of the Municipal Buses and the Way in Which Competition is Restricted. e IN a communication from the town clerk the Glasgow Corporation transport committee has received intimation that the following new powcrst have been conferred on the transport department.: under the Glasgow Corporation
Act which received Royal Assent on August lst.
(1). Power to construct a double line of tramways from Glassford Street into Wilton Street, and to confirm the construction of double lines in place of single lines in (a) Elairst Street and High Street, Renfrew, and (b). Weir -Street, Paisley.
(2) Power to run buses, subject to the necessary licences, on existing and authorized tramway routes outwith the city, including the route of any tramway abandoned under the Act, and in the case of trarnroads on the adjacent roads, viz.: (a) I Coatbridge Road and Bank Street, Coatbridge, and (b) Barrhead and Darnlev Road, and Paisley and Busby Road.
(3) Power to discontinue and abandqn at any time the whole or any part of any tramway or tramroad if and when the corporation has provided a service of buses in lieu thereof, the roadway to be restored to the satisfaction of the road authority concerned in the matter.
14) If and so long as the corporation provides adequate services of tramcars or buses or tramcars and buses, no-person to run buses on tramway routes within the city or on routes in competition therewith, inside the city, in competition with the corporation's services, without prejudice to the right of ,any person to run buses on such routes, provided no passenger is both taken -up and
Set down on the same journey inside the city.
It is understood that the private bus concerns effected are considering what action, if any, they can take to meet the new situation created by the corporation's increased powers. Conferences have already taken place between the two parties, but so far no arrangement appears to have been made.