Phases of PASSENGER TRAVEL 'MUNICIPAL RESULTS IN YORKSHIRE.
7th October 1930
Page 61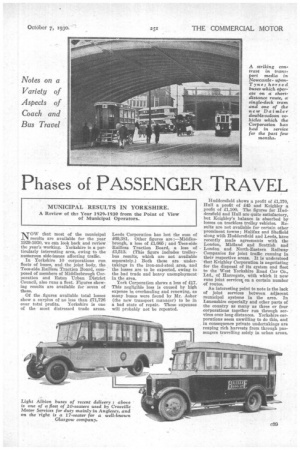 Page 62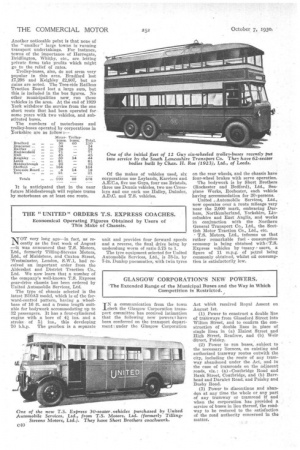 Page 61, 7th October 1930 —
Phases of PASSENGER TRAVEL 'MUNICIPAL RESULTS IN YORKSHIRE.
Close
A Review of the Year 1929.-1930 from the Point of View of Municipal Operators.
NOW that most of the municipal results are available for the year 1929-1930, we can look back and review the year's working. Yorkshire is a particularly interesting area, owing to the numerous side-issues affecting traffic.
In Yorkshire 10 corporations run fleets of buses, and the joint body, the Tees-side 'tailless Traction Board, composed of members of Middlesbrough Corporation and Eston Urban District Council, also runs a fleet. Figures showing results are available for seven of these.
Of the figures available total losses show a surplus of no less than £71,726 over total profits. Yorkshire is one of the most distressed trade areas. Leeds Corporation has lost the sum of £09,381. Other figures are :—Middlesbrough, a loss of £1,665; and Tees-side 'tailless Traction Board, a loss of £3,513. (This figure includes trolleybus results, which are not available separately.) Both these are undertakings in the iron-and-steel area, and the losses are to be expected, owing to the bad trade and heavy unemployment in the area.
York Corporation shows a loss of £17. This negligible loss is caused by high expense in overhauling and renewing, as many buses were found by Mr. Asher (the new transport manager) to be in a bad state of repair. These expenses will probably not be repeated. Huddersfield shows a profit of £1,370, Hull a profit of £45 and Keigldey a profit of £1,100. The figures for Huddersfield and Hull are quite satisfactory, but Keighley's balance is absorbed by losses on traekless trolley vehicles. Results are not available for certain other prominent towns; Halifax and Sheffield along with Huddersfield and Leeds, have recently made agreements with the London, Midland and Scottish and London and North-Eastern Railway Companies for joint traffic running in their respective areas. It is understood that Keighley Corporation is negotiating for the disposal of its system and fleet to the West Yorkshire Road Car Co., Ltd., of Harrogate, with which it now runs joint services, on a certain number of routes.
An interesting point to note is the lack of joint services between adjacent municipal systems in the area. In Lancashire especially and other parts of the country as many as three or four corporations together run through services over long distances. Yorkshire corporations seem unwilling to do this, and in consequence private undertakings are reaping rich harvests from through passengers travelling solely in urban areas. Another noticeable point is that none of the smaller" large towns is running transport undertakings. For instance, towns of the importance of Harrogate, Bridlington, Whitby, etc., are letting private firms take profits which might go to the relief of rates.
Trolley-buses, also, do not seem very popular in this area. Bradford lost £7,298 and Keighley £2,807, but no gains are noted. The Tees-side Railless Traction Board lost a large sum, but this is included in the bus figures. No other municipalities now run these vehicles in the area. At the end of 1929 York withdrew the service from the one short route that had been operated for some years with two vehicles, and substituted buses.
The numbers of motorbuses and trolley-buses operated by corporations in Yorkshire are as follow :— It is anticipated that in the near future Middlesbrough will replace trams by rnotorbuses on at least one route. Of the makes of vehicles used, six corporations use Leylands, Earners and. A.E.V.s, five use Guys, four use Bristols, three use Dennis vehicles, two use Crossleys and one each use Halley, Daimler, A.D.C. and T.S. vehicles.