The Value of A . grimotor
7th October 1930
Page 53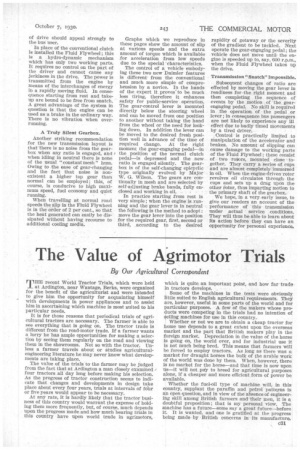 Page 53, 7th October 1930 —
The Value of A . grimotor
Close
Trials
By Our Agricultural Correspondent
THE recent World Tractor Trials, which were held 1 at Ardington, near Wantage, Perks, were organized for the benefit of the agriculturist and were intended to give him the opportunity for acquainting himself with developments in power appliances and to assist him in ascertaining which machine is most suited to his particular needs.
It is for those reasons that periodical trials of agricultural tractors are necessary. The farmer is able to see everything that is going on. The tractor trade is different from the road-motor trade. If a farmer wants a lorry he has ample opportunities for making a selection by seeing them regularly on the road and viewing them in the showrooms. Not so with the tractor. Unless a farmer travels about or studies agriculturalengineering literature he may never know what developments are taking place.
The value of the trials to the farmer may be judged from the fact that at Ardington a man closely examined four tractors all day long before making his selection. As the progress of tractor construction seems to indicate that changes and developments in design take place about every four years, trials at intervals of fair or five years would appear to be necessary.
At any rate, it is hardly likely that the tractor business of this country would warrant the expense of holding them more frequently, but, of course, much depends upon the progress made and how much bearing trials in this country have upon world trade in agrimotors, which is quite an important point, and how far trade in tractors develops. .
Some of the machines in the tests were obviously little suited to English agricultural requirements. They are, however, useful in some parts of the world and for particular purposes. A few of the makers whose products were competing in the trials had no intention of jelling machines for use in this country..
Whether or not we are to obtain a cheap tractor for home use depends to a great extent upon the overseas market and the part that British makers play in the foreign market. Depreciation in the value of the horse is going on, the world over, and for industrial use it is not much being bred. This means that farmers will be forced to employ tractors. As long as there was a market for draught horses the bulk of the arable work of the world was done by them. When, however, there is no market for the horse—and that time is now upon us—it will not. pat,' to breed for agricultural purposes alone, if a cheaper and more efficient form of power be available.
Whether the fuel-oil type of machine will, in this country, supplant the paraffin and petrol patterns is an open question, and in view of the absence of engineering skill among British farmers and their men, it is a doubtful proposition; that is my personal view. The machine has a future--some say a great future—before it. It is wanted, and one is gratified at the progress being made by British concerns in its manufacture.