The Value of Our Series of Comprehensive Road-test Reports.
7th October 1930
Page 40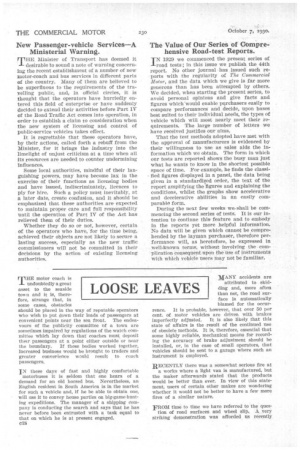 Page 40, 7th October 1930 —
The Value of Our Series of Comprehensive Road-test Reports.
Close
TN 1929 we commenced the present series of -I-road tests ; in this issue we publish the 44th report. No other journal -has issued such reports with the regularity of The Commercial Motor, and the data which we give is far more generous than has been attempted by others. We decided, when starting the present series, to avoid personal opinions and give facts and figures which"would enable purchasers easily to compare performances and decide, upon bases best suited to their individual needs, the types of vehicle which will most nearly meet their requirements. The large number of letters we have received justifies our aims.
That the test methods adopted have met with the approval of manufacturers is evidenced by their willingness to use as sales aids the information which we obtain. The form in which our tests are reported shows the busy man just what he wants to know in the shortest possible space of time. For example, he finds the classifled figures displayed in a panel, the data being given in a standardized order, the text of the report amplifying the figures and explaining the conditions, whilst the graphs show accelerative and decelerative abilities in an easily comparable form.
During the next few weeks we-shall be commencing the second series of tests. It is our intention to Continue thisfeature and to embody in the reports yet more helpful information. No data will be given which cannot be comprehended by the layman purchaser, therefore performance will, as heretofore, be expressed in well-known terms, without involving the complication consequent upon the use of instruments with which vehicle users may not be familiar.