New Passenger-vehicle Services—A Ministerial Warning.
7th October 1930
Page 40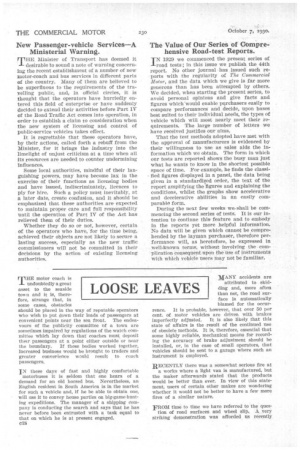 Page 40, 7th October 1930 —
New Passenger-vehicle Services—A Ministerial Warning.
Close
THE Minister of Transport has deemed it desirable to sound a note of warning concerning the recent establishment of a number of new motor-coach and bus services in different parts of the country. Many of them are believed to be superfluous to the requirements of the travelling public, and, in official circles, it is thought that the operators have hurriedly entered this field of enterprise or have suddenly decided to extend their activities before Part IV of the Road Traffic Act comes into operation, in order to establish a claim to consideration when the new system of licensing and control of public-service vehicles takes effect.
It is regrettable that these operators have, by their actions, called forth a rebuff from the Minister, for it brings the industry into the limelight of unjust criticism at a time when all its resources are needed to counter undermining influences.
Some local authorities, mindful of their languishing powers, may have become lax in the exercise of their functions as licensing bodies and have issued, indiscriminately, licences to ply for hire. Such a policy must inevitably, at a later date, create confusion, and it should be emphasized that these authorities areexpected to maintain proper care and full responsibility until the operation of Part IV of the Act has relieved them of their duties.
Whether they do so or not, however, certain of the operators who have, for the time being, achieved their objects are not likely to secure a lasting success, especially as the new traffic commissioners will not be committed in their decisions by the action of existing licensing authorities.