LOOSE LEAVES
7th October 1930
Page 40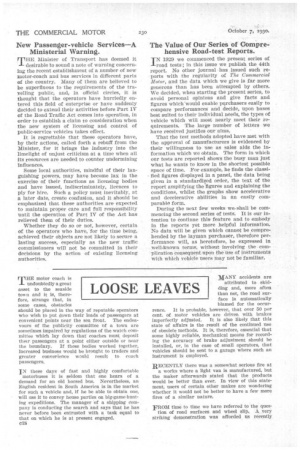 Page 41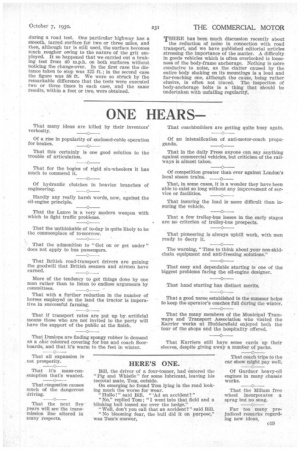 Page 40, 7th October 1930 —
LOOSE LEAVES
Close
THE motor coach is undoubtedly a great asset to the seaside toss n and it is, therefore, strange that, in some cases, obstacles should be placed in the way of reputable operators who wish to put down their loads of passengers at convenient points near the sea front. The endeavours of the publicity committee Of a town are sometimes impaired by regulations of the watch committee which lay down that coaches must deposit their passengers at a point either outside or near the boundary. If these bodies worked together, increased business would be brought to traders and greater convenience would result to coach passengers.
IN these days of fast and highly comfortable motorbuses it is seldom that one hears of a demand for an old horsed bus. Nevertheless, an English resident in South America is in the market for such a vehicle and, if he be able to obtain one, will use it to convey house parties on big-game-hunting expeditions. The manager of a shipping company is conducting the search and says that he has never before been entrusted with a task equal to that on which he is at present engaged. c18
MANY accidents are attributed to skidding and, more often than not, the road surface is automatically blamed for the occurrence. It is probable, however, that over 50 per cent, of motor vehicles are driven with brakes
imperfectly adjusted. It is also likely that this state of affairs is the result of the continued use of obsolete methods. It is, therefore, essential that some highly reliable, mechanical means for recording the accuracy of brake adjustment should be installed, or, in the case of small operators, that vehicles should be sent to a garage where such an instrument is employed.
RECENTLY there was a somewhat serious fire at a works where a light van is manufactured, but the maker afterwards stated that the products would be better than ever. In view of this statement, users of certain other makes are wondering whether it would not be better to have a few more fires of a similar nature.
FROM time to time -we have referred to the question of road surfaces and wheel slip. A very striking demonstration was afforded us recently during a road test. One particular highway has a smooth, tarred surface for two or three miles, and then, although tar is still used, the surface becomes much rougher owing to the nature of the grit employed. It so happened that we carried out a braking test from 40 m.p.h. on both surfaces without noticing the change-over. In the first case the distance taken to stop was 125 ft. ; in the second case the figure was 88 ft. We were so struck by the remarkable difference that the tests were executed two or three times in each case, and the same results, within a foot or two, were obtained. THERE has been much discussion recently about the reduction of noise in connection with road transport, and we have published editorial articles stressing the importance of the matter. A difficulty in goods vehicles which is often overlooked is looseness of the body-frame anchorage. Nothing is mere conducive to noise, as the clatter caused by the entire body shaking on its mountings is a loud and far-reaching one, although the cause, being rather elusive, is often not traced. The inspection of body-anchorage bolts is a • thing that should be undertaken with unfailing regularity.