Waste comes in two types
7th March 1996
Page 8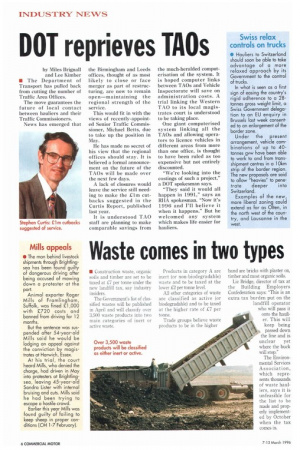 Page 8, 7th March 1996 —
Waste comes in two types
Close
• Construction waste, organic soils and timber are set to be taxed at £7 per tonne under the new landfill tax, say industry insiders.
The Government's list of classified wastes will be published in April and will classify over 3,500 waste products into two main categories of inert or active waste.
Products in category A are inert (or non-biodegradable) waste and to be taxed at the lower .0 per tonne level.
All other categories of waste are classified as active (or biodegradable) and to be taxed at the higher rate of .C7 per tonne.
Trade groups believe waste products to be in the higher band are bricks with plaster on, timber and most organic soils.
Liz Bridge, director of tax at the Building Employers Confederation says: "This is an extra tax burden put on the landfill operator who will pass it onto the hauli er. This will keep being
passed down the line and is unclear yet where the buck will stop."
The Environmental Services Association, which represents thousands of waste hauliers, says it is unfeasible for the list to be made and properly implemented by October when the tax comes in.