DOT reprieves TAOs
7th March 1996
Page 8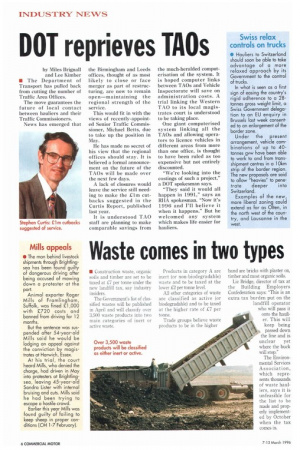 Page 8, 7th March 1996 —
DOT reprieves TAOs
Close
by Miles Brignall and Lee Kimber • The Department of Transport has pulled back from cutting the number of Traffic Area Offices.
The move guarantees the future of local contact between hauliers and their Traffic Commissioners.
News has emerged that the Birmingham and Leeds offices, thought of as most likely to close or face merger as part of restructuring, are now to remain open—maintaining the regional strength of the service.
This would fit in with the views of recently-appointed Senior Traffic Commissioner, Michael Betts, due to take up the position in May.
He has made no secret of his view that the regional offices should stay. It is believed a formal announcement on the future of the TAOs will be made over the next few days.
A lack of closures would leave the service still needing to make the Lim cutbacks suggested in the Curtis Report, published last year.
It is understood TAO staff are planning to make comparable savings from the much-heralded computerisation of the system. It is hoped computer links between TAOs and Vehicle Inspectorate will save on administration costs. A trial linking the Western TAO to its local magistrates court is understood to be taking place.
One giant computerised system linking all the TAOs and allowing operators to licence vehicles in different areas from more than one office, is thought to have been ruled as too expensive but not entirely discounted.
"We're looking into the costings of such a project," a DOT spokesman says.
"They said it would all happen in 1991," says an RIIA spokesman. "Now it's 1996 and I'll believe it when it happens." But he welcomed any system which makes life easier for hauliers.