Euro-2 engines could reduce VED
7th March 1996
Page 6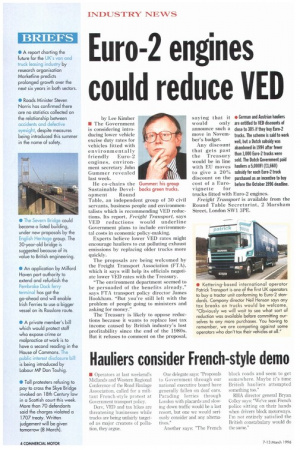 Page 6, 7th March 1996 —
Euro-2 engines could reduce VED
Close
by Lee Kimber • The Government is considering lot roducing lower vehicle excise duty rates for vehicles fitted with environmentally friendly Euro-2 engines, environment secretary John Gummer revealed last week.
He co-chairs the Gummer: his group Sustainable Develbacks green trucks.
opment Round Table, an independent group of 30 civil servants, business people and environmentalists which is recommending VED reductions. Its report, Freight Transport, says VED reductions would underline Government plans to include environmental costs in economic policy-making.
Experts believe lower VED rates might encourage hauliers to cut polluting exhaust emissions by replacing older trucks more quickly.
The proposals are being welcomed by the Freight Transport Association (FTA), which it says will help its officials negotiate lower VED rates with the Treasury.
"The environment department seemed to be persuaded of the benefits already," says FTA transport policy director James Hookham. "But you're still left with the problem of people going to ministers and asking for money."
The Treasury is likely to oppose reductions because it wants to replace lost tax income caused by British industry's lost profitability since the end of the 1980s. But it refuses to comment on the proposal, saying that it • German and Austrian hauliers would only are entitled to VED discounts of announce such a close to 30°/0 if they buy Euro-2 move in Novemtrucks. The scheme is said to work ber's budget.
that gets past the Treasury would be in line Any discount with EU moves to give a 20% discount on the purchased as an incentive to buy cost of a Eurobefore the October 1996 deadline. vignette for trucks fitted with Euro-2 engines.
Freight Transport is available from the Round Table Secretariat, 2 Marsham Street, London SW1 3PE. than 1,000 Eurci-2 trucks were well, but a Dutch subsidy was abandoned in 1994 after fewer sold. The Dutch Government paid hauliers a 5,000F1 (E1,660)
subsidy for each Euro-2 truck
• Kettering-based international operator Patrick Transport is one of the first UK operators to buy a tractor unit conforming to Euro-2 standards. Company director Neil Henson says any tax breaks on trucks would be welcome. "Obviously we will wait to see what sort of reduction was available before committing ourselves to any more purchases. You having to remember, we are competing against some operators who don't tax their vehicles at all."