BRIEFS
7th March 1996
Page 6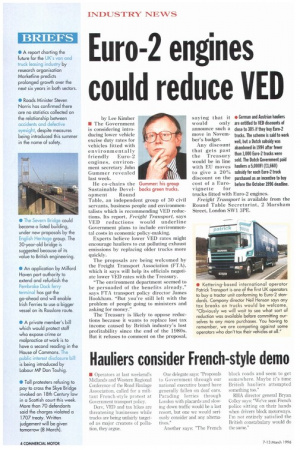 Page 6, 7th March 1996 —
BRIEFS
Close
• A report charting the future for the UK's van and truck leasing industry by research organisation Marketline predicts prolonged growth over the next six years in both sectors.
* Roads Minister Steven Norris has confirmed there are no statistics collected on the relationship between accidents and defective eyesight, despite measures being introduced this summer in the name of safety.
• The Severn Bridge could become a listed building, under new proposals by the English Heritage group. The 30-year-old bridge is suggested because of its value to British engineering.
• An application by Milford Haven port authority to extend and refurbish the Pembroke Dock ferry terminal has got the go-ahead and will enable Irish Ferries to use a bigger vessel on its Rosslore route.
4?) A private member's bill which would protect staff who expose crime or malpractice at work is to have a second reading in the House of Commons. The public interest disclosure bill is being introduced by Labour MP Don Touhig.
Toll protesters refusing to pay to cross the Skye Bridge invoked an 18th Century law in a Scottish court this week More than 70 defendants said the charges violated a 1707 treaty. Written judgement will be given tomorrow (8 March).