Facing a chilly wind
7th March 1996
Page 28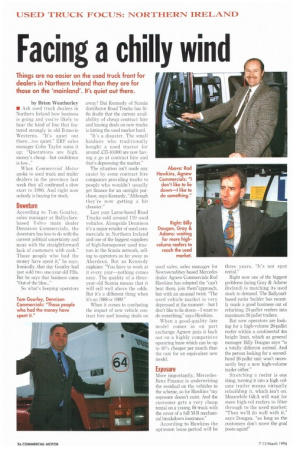 Page 28, 7th March 1996 —
Facing a chilly wind
Close
Keywords :
Södertälje Municipality
,
Articulated Vehicles
,
Scania
,
Volkswagen
,
Semi-trailer Truck
,
Truck
,
Pallet
,
Refrigerator Car
,
Man Se
,
Leasing
,
Renting
,
Business / Finance
Things are no easier on the used truck front for dealers in Northern Ireland than they are for those on the 'mainland'. It's quiet out there.
by Brian Weatherley • Ask used truck dealers in Northern Ireland how business is going and you're likely to hear the kind of line that featured strongly in old B-movie Westerns. "It's quiet out there...too quiet." ERF sales manager Colin Taylor sums it up: "Quotations are high, money's cheap but confidence is low.,."
When Commercial Motor spoke to used truck and trailer dealers in the province last week they all confirmed a slow start to 1996. And right now nobody is buying for stock.
Downturn
According to Tom Gourley, sales manager at Ballyclarebased Volvo main dealer Dennison Commercials, the downturn has less to do with the current political uncertainty and more with the straightforward lack of customers with cash." Those people who had the money have spent it," he says. Ironically, that day Gourley had just sold two one-year-old Ills. But he says that business came "Out of the blue..."
So what's keeping operators away? Dai Kennedy of Scania distributor Road Trucks has little doubt that the current availability of cheap contract hire and leasing deals on new trucks is hitting the used market hard.
"It's a disaster. The small hauliers who traditionally bought a used tractor for around L3540,000 are now having a go at contract hire and that's depressing the market."
The situation isn't made any easier by some contract hire companies providing trucks to people who wouldn't usually get finance for an outright purchase, says Kennedy, "Although they're now getting a bit choosier."
Last year Larne-based Road Trucks sold around 110 used vehicles. Alongside Dennison it's a major retailer of used commercials in Northern Ireland and one of the biggest suppliers of high-horsepower used tractors in the Scania network, selling to operators as far away as Aberdeen. But as Kennedy explains: "You have to work at it every year—nothing comes easy. The quality of a threeyear-old Scania means that it will sell well above the odds. But it's a different thing when it's an 1988 or 1989."
When it comes to combating the impact of new vehicle contract hire and leasing deals on used sales, sales manager for Newtownabbey-based Mercedes dealer Agnew Commercials Rod Hawkins has adopted the "can't beat them, join them"approach, but with an unusual twist. "The used vehicle market is very depressed at the moment--but I don't like to lie down—I want to do something," says Hawkins.
When a good-quality late model comes in on part exchange Agnew puts it back out on a highly competitive operating lease which can be up to 40% cheaper per month than the rate for an equivalent new model.
Exposure
More importantly, MercedesBenz Finance is underwriting the residual on the vehicles in the scheme, so for Hawkins "my exposure doesn't exist. And the customer gets a very cheap rental on a young, fit truck with the cover of a full M-B mechanical breakdown insurance."
According to Hawkins the optimum lease period will be three years, "It's not spot rental."
Right now one of the biggest problems facing Gray & Adams (Ireland) is matching its used stock to demand. The Ballyearlbased reefer builder has recently made a good business out of refurbing 24-pallet reefers into maximum 26 pallet trailers.
But now operators are looking for a high-volume 26-pallet reefer within a continental 4m height limit, which as general manager Billy Dougan says "is a totally different animal. And the person looking for a secondhand 26-pallet unit won't necessarily buy a new high-volume trailer either."
Stretching a reefer is one thing, turning it into a high volume trailer means virtually rebuilding it, which isn't on. Meanwhile G&A will wait for more high-vol reefers to filter through to the used market: "Then we'll do well with it," says Dougan, "as long as the customers don't move the goal posts again!"