Sort the statistics
7th March 1996
Page 27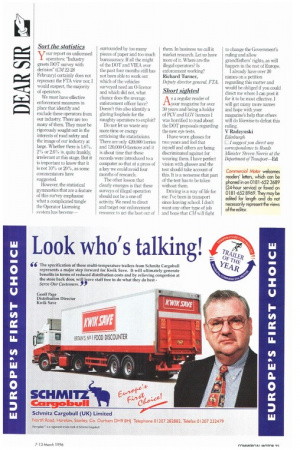 Page 27, 7th March 1996 —
Sort the statistics
Close
Your report on unlicensed operators: "Industry greets DOT survey with derision" (CM 22-28 February) certainly does not represent the FTA view nor, I would suspect, the majority of operators.
We must have effective enforcement measures in place that identify and exclude these operators from our industry. There are too many of them. They must be rigorously sought out in the interests of road safety and the image of our industry at large. Whether there is 1.6%, 2% or 2.6% is, quite frankly, irrelevant at this stage. But it is important to know that it is not 10% or 20%, as some commentators have suggested.
However, the statistical gymnastics that are a feature of this sufvey emphasise what a complicated tangle the Operator Licensing system has become—
surrounded by too many pieces of paper and too much bureaucracy. If all the might of the DOT and VIEA over the past four months still has not been able to work out which of the vehicles surveyed need an 0-licence and which did not, what chance does the average enforcement officer have? Doesn't this also identify a glaring loophole for the naughty operators to exploit?
Do not let us waste any more time or energy criticising the statisticians. There are only 420,000 lorries and 120,000 0-licences and it is about time that these records were introduced to a computer so that at a press of a key we could avoid four months of research.
The other lesson that clearly emerges is that these surveys of illegal operation should not be a one-off activity. We need to direct and target our enforcement resource to get the best out of them. In business we call it market research. Let us have more of it. Where are the illegal operators? Is enforcement working? Richard Turner, Deputy director general, FTA.