Rugby cleans up on refuse
7th March 1996
Page 22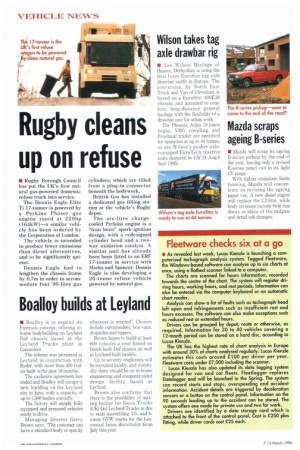 Page 22, 7th March 1996 —
Rugby cleans up on refuse
Close
Keywords :
Fuels
,
Alternative Propulsion
,
Engines
,
Gas Engine
,
Natural Gas
,
Lean Burn
,
Internal Combustion Engine
,
Dennis Specialist Vehicles
,
Filling Station
,
Erf
,
Business / Finance
• Rugby Borough Council has put the UK's first natural gas-powered domestic refuse truck into service.
The Dennis Eagle Elite Ti 17-tormer is powered by a Perkins Phaser gas engine rated at 220hp (164kW)—a similar vehicle has been ordered by the Corporation of London.
The vehicle is intended to produce fewer emissions than diesel alternatives, and to be significantly quieter.
Dennis Eagle had to lengthen the chassis frame by 0.7m in order to accommodate four 90-litre gas cylinders, which are filled from a plug-in connector beneath the bodywork.
British Gas has installed a dedicated gas filling station at the vehicle's Rugby depot.
The six-litre chargecooled Perkins engine is a "lean burn" spark-ignition design, with a redesigned cylinder head and a twoway oxidation oxidation catalyst. A similar unit has already been been fitted to an ERF 17-tonner in service with Marks and Spencer. Dennis Eagle is also developing a 26-tonne refuse vehicle powered by natural gas.