Fleetware checks six at a go
7th March 1996
Page 22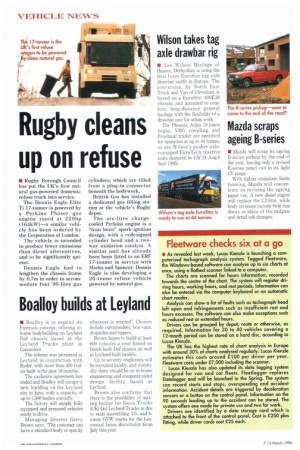 Page 22, 7th March 1996 —
Fleetware checks six at a go
Close
• As revealed last week, Lucas Kienzle is launching a cornputerised tachograph analysis system. Tagged Fleetware, the Windows-based software can analyse up to six charts at once, using a flatbed scanner linked to a computer. The charts are scanned for hours information, recorded towards the centre of the chart. The system will register driving hours, working hours, and rest periods. Information can also be entered via the computer keyboard or an automatic chart reader.
Analysis can show a list of faults such as tachograph head left open and infringements such as insufficient rest and hours excesses. The software can also make exceptions such as reduced rest or extended hours.
Drivers can be grouped by depot, route or otherwise, as required. Information for 30 to 40 vehicles covering a 12-month period can be stored on a hard disc, according to Lucas Kienzle.
The UK has the highest rate of chart analysis in Europe with around 30% of charts analysed regularly. Lucas Kienzle estimates this costs around £100 per driver per year. Fleetware costs under £7,000 including the scanner.
Lucas Kienzle has also updated its data logging system designed for van and car fleets. Fleetiogger replaces Datalogger and will be launched in the Spring. The system can record starts and stops, overspeeding and accident information. Accident details are triggered by deceleration sensors or a button on the control panel. Information on the 90 seconds leading up to the accident can be stored. The system offers one mode for private use and two for work.
Drivers are identified by a data storage card which is attached to the front of the control panel. Cost is £250 plus fitting, while driver cards cost £25 each.