SNP backs licence bid
7th March 1996
Page 17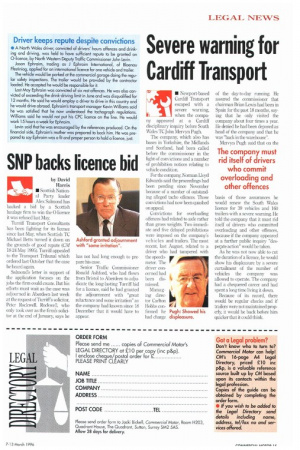 Page 17, 7th March 1996 —
SNP backs licence bid
Close
by David Harris • Scottish National Party leader Alex Salmond has backed a bid by a Scottish haulage firm to win the 0-licence it was refused last May.
Turriff Transport Consultants has been fighting for its licence since last May. when Scottish TC Michael Betts turned it down on the grounds of good repute (CM 18-24 May 1995). Turriff appealed to the Transport Tribunal which ordered last October that the case be heard again.
Saltnond's letter in support of the application focuses on the jobs the firm could create. But his efforts must wait as the case was adjourned in Aberdeen last week at the request of Turriff's solicitor, Peter Rockwell. Rockwell, who only wok over as the firm's solicitor at the end of January, says he
has not had long enough to pitpare his case.
Senior Traffic Commissioner Ronald Ashford, who had flown from Bristol to Aberdeen to adjudicate the long-lasting Turriff bid for a licence, said he had granted the adjournment with "great reluctance and some irritation" as the company had known since 18 December that it would have to appear.