Driver keeps repute despite convictions
7th March 1996
Page 17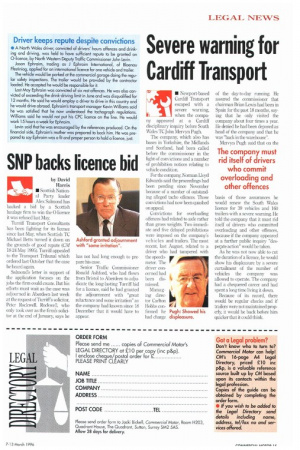 Page 17, 7th March 1996 —
Driver keeps repute despite convictions
Close
• A North Wales driver, convided of drivers' hours offences and drinking and driving, was held to have sufficient repute to be granted an 0-licence, by North Western Deputy Traffic Commissioner John Levin.
Jason Ephraim, trading as 1 Ephraim International, of Blaenau Ffestiniog, applied for an international licence for one vehicle and trailer.
The vehicle would be parked at the commercial garage doing the regular safely inspections. The trailer would be provided by the contractor loaded. He accepted he would be responsible for it.
Last May Ephraim was convicted of six rest offences. He was also convicted of exceeding the drink-driving limit in June and was disqualified for 12 months. He said he would employ a driver to drive in this country and he would drive abroad. Ephraim's transport manager Kevin Williams said he was satisfied that he now understood the tachograph regulations. Williams said he would not put his CPC licence on the line. He would work 15 hours a week for Ephraim.
Levin said that he was encouraged by the references produced. On the financial side, Ephraim's mother was prepared to back him. He was prepared to say Ephraim was a fit and proper person to hold a licence, just.