Beware the costs' avalanche
7th March 1996
Page 14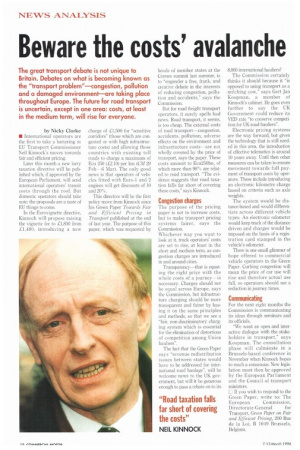 Page 14, 7th March 1996 —
Beware the costs' avalanche
Close
Keywords :
Transportation Planning
,
Sustainable Transport
,
Transport Economics
,
Electronic Toll Collection
,
Motoring Taxation In The United Kingdom
,
Congestion Pricing
,
Road Pricing
,
Traffic Congestion
,
Public Transport
,
Neil Kinnock
,
Salter Report
The great transport debate is not unique to Britain. Debates on what is becoming known as the "transport problem"—congestion, pollution and a damaged environment—are taking place throughout Europe. The future for road transport is uncertain, except in one area: costs, at least in the medium term, will rise for everyone.
by Nicky Clarke • International operators are the first to take a battering in EU Transport Commissioner Neil Kinnock's moves towards fair and efficient pricing.
Later this month a new lorry taxation directive will be published which, if approved by the European Parliament, will send international operators transit costs through the roof. But domestic operators should take note: the proposals are a taste of EU things to come.
In the Eurovignette directive, Kinnock will propose raising the vignette fee to £1,850 from 4.:1,480, introducing a new charge of £1,500 for "sensitive corridors" (those which are congested or with high infrastructure costs) and allowing those countries with existing toll roads to charge a maximum of F,cu 250 (£2.10) per km (CM 29 Feb--6 Mar). The only good news is that operators of vehicles fitted with Euro-1 and 2 engines will get discounts of 10 and 20%.
This directive will be the first policy move from Kinnock since his Green Paper Towards Fair and Efficient Pricing in Transport published at the end of last year. The purpose of this paper, which was requested by heads of member states at the Cannes summit last summer, is to "engender a free, frank, and creative debate in the interests of reducing congestion, pollution and accidents," says the Commission.
But for road freight transport operators, it surely spells bad news. Road transport, it seems, is too cheap. The external costs of road transport—congestion, accidents, pollution, adverse effects on the environment and infrastructure costs—are not wholly covered by the price of transport, says the paper. These costs amount to Ecu250bn, of which more than 90% are related to road transport. "The evidence suggests that road taxation falls far short of covering these costs," says Kinnock.
Congestion charges
The purpose of the pricing paper is not to increase costs, but to make transport pricing systems fairer, says the Commission.
Whichever way you want to look at it, truck operators' costs are set to rise, at least in the short and medium term, as congestion charges are introduced in and around cities.
Transparency—that is equating the right price with the whole costs of a journey—is necessary. Charges should not be equal across Europe, says the Commission, but infrastructure charging should be more transparent and fairer by basing it on the same principles and methods, so that we see a "fair, non-discriminatory charging system which is essential for the elimination of distortions of competition among Union hauliers".
The fact that the Green Paper says "revenue redistribution issues between states would have to be addressed for international road haulage", will be welcome news to the UK government, but will it be generous enough to pass a rebate on to its 8,000 international hauliers?
The Commission certainly thinks it should because it "is opposed to using transport as a milching cow," says Gert Jan Koopman, a member of Kinnock's cabinet. Ile goes even further to say the UK Government could reduce its VED rate "to conserve competition for UK road hauliers".
Electronic pricing systems are the way forward, but given the technology that is still needed in this area, the introduction of effective telematics is around 10 years away. Until then other measures can be taken to ensure movement towards full payment of transport costs by operators. These include introducing an electronic kilometre charge based on criteria such as axle weights.
The system would be distance-based and would differentiate across different vehicle types. An electronic odometer would keep track of the distance driven and charges would be imposed on the basis of a registration card stamped in the vehicle's odometer.
There is one small glimmer of hope offered to commercial vehicle operators in the Green Paper. Curbing congestion will mean the price of car use will rise and therefore actual use fall, so operators should see a reduction in journey times.
Communicating
For the next eight months the Commission is communicating its ideas through seminars and its officials.
"We want an open and interactive dialogue with the stakeholders in transport," says Koopman. The consultation phase will culminate in a Brussels-based conference in November when Kinnock hopes to reach a consensus. New legislation must then be approved by the European Parliament and the Council of transport ministers.
11 If you wish to respond to the Green Paper, write to: The European Commission, Directorate-General for Transport, Green Paper on Fair and Efficient Pricing, 200 Rue de Is Loi, B 1049 Brussels, Belgium.