Harris sales a threat to drivers Fill queries rail buyer
7th March 1996
Page 12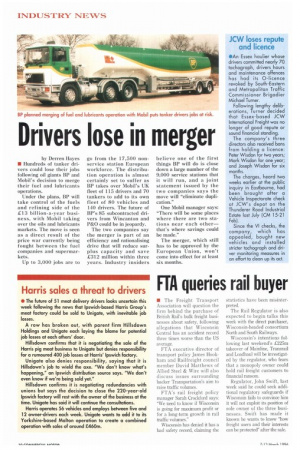 Page 12, 7th March 1996 —
Harris sales a threat to drivers Fill queries rail buyer
Close
• The future of 51 meat delivery drivers looks uncertain this week following the news that Ipswich-based Harris Group's meat factory could be sold to Unigate, with inevitable job losses.
A row has broken out, with parent firm Hillsdown Holdings and Unigate each laying the blame for potential job losses at each others door.
Hillsdown confirms that it is negotiating the sale of the Harris pig meat business to Unigate but denies responsibility for a rumoured 400 job losses at Harris' Ipswich factory.
Unigate also denies responsibility, saying that it is Hillsdown's job to wield the axe. "We don't know what's happening," an Ipswich distribution source says. "We don't even know if we're being sold yet."
Hillsdown confirms it is negotiating redundancies with unions but says the decision to close the 220-year-old Ipswich factory will rest with the owner of the business at the time. Unigate has said it will continue the consultations.
Harris operates 56 vehicles and employs between five and 12 owner-drivers each week. Unigate wants to add it to its Yorkshire-based Mahon operation to create a combined operation with sales of around £460m.