Drivers lose in merger
7th March 1996
Page 12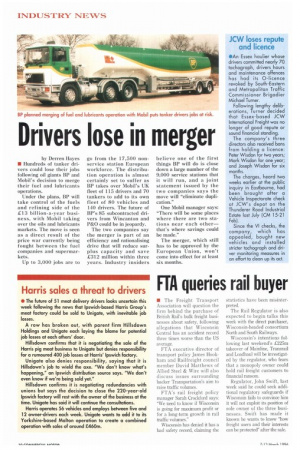 Page 12, 7th March 1996 —
Drivers lose in merger
Close
by Derren Hayes • Hundreds of tanker drivers could lose their jobs following oil giants BP and Mobil's decision to merge their fuel and lubricants operations.
Under the plans, BP will take control of the fuels and refining side of the £13 billion-a-year business, with Mobil taking over the oils and lubricants markets. The move is seen as a direct result of the price war currently being fought between the fuel companies and supermarkets.
Up to 3,000 jobs are to go from the 17,500 nonservice station European workforce. The distribution operation is almost certainly set to suffer as BP takes over Mobil's UK fleet of 115 drivers and 70 tankers to add to its own fleet of 80 vehicles and 140 drivers. The future of BP's 85 subcontracted drivers from Wincanton and P&O could be in jeopardy.
The two companies say the merger is part of an efficiency and rationalising drive that will reduce surplus capacity and save £312 million within three years. Industry insiders believe one of the first things BP will do is close down a large number of the 9,000 service stations that it will run, and a joint statement issued by the two companies says the move will "eliminate duplication."
One Mobil manager says: "There will be some places where there are two stations near each other— that's where savings could be made."
The merger, which still has to be approved by the European Union, won't come into effect for at least six months.