Humber bridge charges soar to pull back debt
7th March 1996
Page 11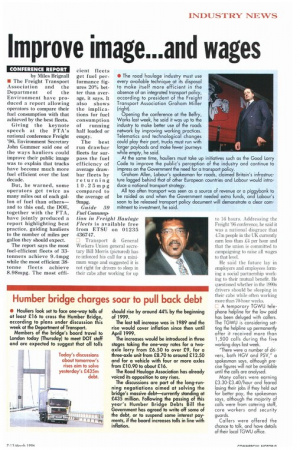 Page 11, 7th March 1996 —
Humber bridge charges soar to pull back debt
Close
• Hauliers look set to face one-way tolls of at least £16 to cross the Humber Bridge, according to plans under discussion this week at the Department of Transport. Members of the bridge's board travel to London today (Thursday) to meet DOT staff and are expected to suggest that all tolls
should rise by around 44% by the beginning of 1999.
The last toll increase was in 1989 and the rise would cover inflation since then until April 1999.
The increases would be introduced in three stages taking the one-way rates for a twoaxle lorry from £6.50 to over £9, for a three-axle unit from £8.70 to around £12.50 and for a vehicle with four or more axles from £10.90 to about £16.
The Road Haulage Association has already voiced its opposition to any rises.
The discussions are part of the long-running negotiations aimed at solving the bridge's massive debt—currently standing at £435 million. Following the passing of this year's Humber Bridge Debts Bill the Government has agreed to write off some of the debt, or to suspend some interest payments, if the board increases tolls in line with inflation.