Ports could get 44 tonne rielits
7th March 1996
Page 10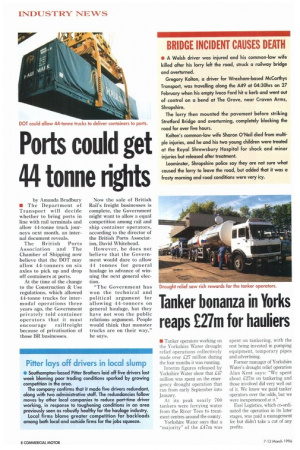 Page 10, 7th March 1996 —
Ports could get 44 tonne rielits
Close
by Amanda Bradbury • The Department of Transport will decide whether to bring ports in line with rail terminals and allow 44-tonne truck journeys next month, an internal document reveals.
The British Ports Association and The Chamber of Shipping now believe that the DOT may allow 44-tonners on six axles to pick up and drop off containers at ports.
At the time of the change to the Construction & Use regulations, which allowed 44-tonne trucks for intermodal operations three years ago, the Government privately told container operators that it must encourage railfreight because of privatisation of those BR businesses. Now the sale of British Rail's freight businesses is complete, the Government might want to allow a equal competition among rail and ship container operators, according to the director of the British Ports Association, David Whitehead.
However, he does not believe that the Government would dare to allow 44 tonnes for general haulage in advance of winning the next general election.
"The Government has won the technical and political argument for allowing 44-tonners on general haulage, but they have not won the public relations argument. People would think that monster trucks are on their way," he says.