Moving the Coal
7th March 1947
Page 47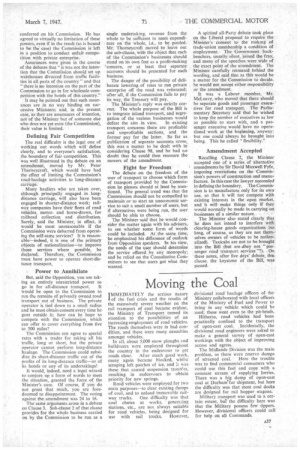 Page 47, 7th March 1947 —
Moving the Coal
Close
IMMEDIATELY the serious nature of the fuel crisis and the results of the excessively severe weather on the rail -transport of coal became evident, the Ministry of Transport turned its attention to the possibilities of an increasing employment of road vehicles. The roads themselves were in bad condition, and there were many casualties amongst vehicles.
In all, about 5,000 snow ploughs and bulldozers were employed throughout the country in the endeavour to get roads clear. After much good work, many again became blocked, whilst scraping left patches of ice, and it was these that caused suspension troutills, resulting in endeavours to obtain priority for new springs.
Road vehicles were employed for two main purposes—to clear existing dumps of coal, and to unload immovable rail way trucks. One difficulty was that coal chutes at works, generating stations, etc.. are not always suitable for road vehicles, being designed for use with rail trucks. Howcver, divisional road haulage officers of the Ministry collaborated with local officers of the Ministry of Fuel and Power to bring in any vehicle which could be used; these went even to the pit-heads.
Hitherto, road vehicles had been practically confined to the transport of open-cast coal. Incidentally, the divisional road engineers were asked to make a general survey of open-cast workings with the object of improving access and egress.
The Midlands Division was the main problem, as there were reserve dumps of screened coal. Here the trouble was to find commercial consumers who could use this fuel and cope with a constant stream of supplying lorries. There was a big dump of open-cast coal at Durhanifor shipment, but here the difficulty was that most coal docks are designed for rail hopper wagons.
Military transport was used to a certain extent, but the difficulty here was that the Military possess few tippers. However, divisional officers could call for help on all Commands.