War Robs Ex-Serviceman of Livelihood
7th March 1947
Page 43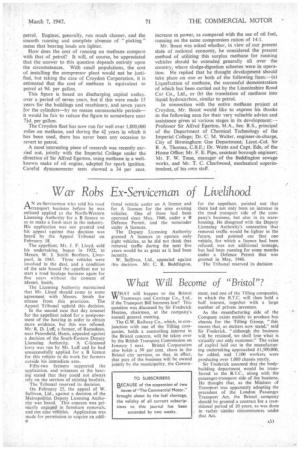 Page 43, 7th March 1947 —
War Robs Ex-Serviceman of Livelihood
Close
A N ex-Serviceman who sold his road r-ktransport business before he was enlisted applied to the North-Western Licensing Authority for a B licence so as to make a fresh start in the industry. His application was not granted and his appeal against that decision was heard by the Appeal Tribunal on February 18.
The appellant. Mr. J. F. Lloyd, sold his undertaking, begun in 1922, to Messrs. W. J. Smith Brothers. Liver
pool, in 1943. Three vehicles were involved in the deal, and a condition of the sale bound the appellant not to start a road haulage business again for five years without the consent of Messrs. Smith.
The Licensing Authority maintained that Mr. Lloyd should come to some agreement with Messrs. Smith for release from this provision. The Appeal Tribunal upheld this decision.
In the second case that day counsel or the appellant asked for a postponement of the hearing in order to obtain more evidence, but this was refused. Mr: R. D. Luff, a farmer, of Ramsdean, near Petersfield, Hants, appealed against a decision of the South-Eastern Deputy Licensing Authority. A C-licensed lorry was run by Mr. Luff and he had unsuccessfully applied for a B licence for this vehicle to do work for farmers outside his immediate area.
Fifty-two farmers supported the application, and witnesses at the hearing stated that they could not always . rely on the services of existing hauliers.
The Tribunal reserved its decision.
On February 25, the appeal of W. Sullivan, Ltd., against a decision of the Metropolitan Deputy Licensing Authority was heard. This concern was primarily engaged in furniture removals, and ran nine vehicles. Application was made for permission to acquire an addi•
tional vehicle under an A licence and for A licences for the nine existing vehicles. One of these had been operated since May. 1946, under a B Defence Permit, and the remainder under A licences.
The Deputy Licensing Authority granted A licences to operate only. eight vehicles, as he did not think that removal traffic during the next five years would be as great as it had been recently.
W. Sullivan. Ltd., appealed against this decision. Mr. C. R. Bedclington, for the appellant, pointed out that there had not only been an increase in the road transport side of the company's business, but also in its warehousing. He disagreed with the Deputy Licensing Authority's contention that removal traffic would be lighter in the future, and pointed out that one vehicle, for which a licence had been refused, was not additional tonnage, but had been running for some months under a Defence Permit that was granted in May, 1946.
The Tribunal reserved its decision