One Hears
7th March 1947
Page 25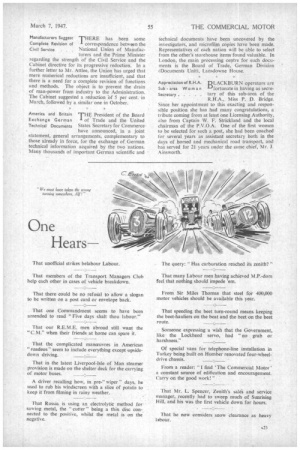 Page 25, 7th March 1947 —
One Hears
Close
That unofficial strikes belabour Labour.
That members of the Transport Managers Club help each other in cases of vehicle breakdown.
That there could be no refusal to allow a slogan to be written on a post card or envelope back.
That one Commandment seems to have been amended to read "Five days shalt thou labour."' That our R.E.M.E. men abroad still want the "CM." when their friends at home can spare it.
That the complicated manceuvres in American " roadeos " seem to include everything except .upsidedown driving.
That in the latest Liverpool-Isle of Man steamer provision is made on the shelter deck for the carrying of motor buses.
A driver recalling how, in pre-" wiper" days, he used to rub his windscreen with a slice of potato to keep it from filming in rainy weather.
That Russia is using an electrolytic method for sawing metal, the " cutter " being a thin disc connected to the positive, whilst the metal is on the negative. The query: "Has carburation reached its zenith?"
That many Labour men having achieved M.P.-dom feel that nothing should impede 'ern.
From Sir. Miles Thomas that steel for 400,000 motor vehicles should be available this year.
That speeding the beet turn-round means keeping the beet-hauliers on the beat and the beet on the beet route. -0 Someone expressing a wish that the Government, like the Lockheed servo, had "no grab or harshness." _ Of special vans for telephone-line installation in Turkey being built on Humber renovated four-wheeldrive chassis.
From a reader: "I find 'The Commercial Motor' a constant source of edification and encouragement. Carry on the good work!"
That Mr. L. Spencer, Zenith's sales and service manager, recently had to sweep much of Sunrising Hill, and his was the first vehicle down for hours.
That he now considers snow clearance as heavy labour.