France Shows the Way
7th March 1947
Page 24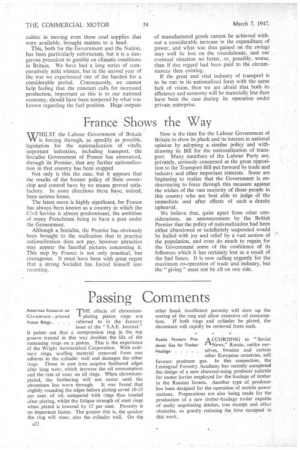 Page 24, 7th March 1947 —
France Shows the Way
Close
WHILST the Labour Government of Britain is forcing through, as speedily as possible, legislation for the nationalization of vitally important industries, including transport, the Socialist Government of France has announced, through its Premier, that any further nationalization in that country has been stopped.
Not only is this the case, but it appears that the results of the former policy of State ownership and control have by no means proved satisfactory. In some directions there have, indeed, been serious losses.
The latest move is highly significant, for France has always been known as a country in which the Civil Service is almost predominant, the ambition of many Frenchmen being to have a post under the Government.
Although a Socialist, the Premier has obviously been brought to the realization that in practice nationalization does not pay, however attractive may appear the fanciful pictures concerning it. This step by France is not only practical, but courageous. It must have been with great regret that a strong Socialist has forced himself into recanting. Now is the time for the Labour Government ot Britain to show its pluck and its interest in national opinion by adopting a similar policy and withdrawing its Bill for the nationalization of transport. Many members of the Labour Party are, privately, seriously concerned at the great opposition to the Transport Bill put forward by trade and industry and other important interests. Some are beginning to realize that the Government is endeavouring to force through this measure against the wishes of the vast majority of those people in this country who are best able to judge of the immediate and after effects of such a drastic upheaval.
We believe that, quite apart from other considerations, an announcement by the British Premier that the policy of nationalization had been either abandoned or indefinitely suspended would be bailed with joy and relief by a vast section of the population, and even do much to regain for the Government some of the confidence of its followers 'which it has certainly lost as a result of the fuel fiasco. It is now calling urgently for the maximum co-operation of trade and industry, but the " giving " must not be all on one side.