Special Steels for Motor Vehicles.
7th March 1907
Page 2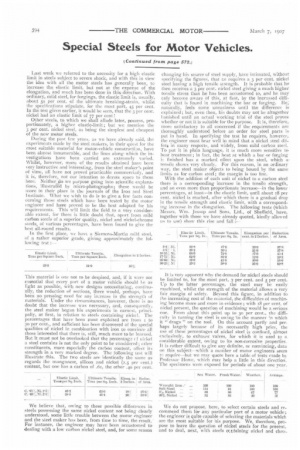 Page 3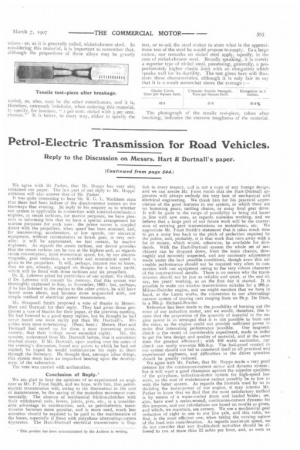 Page 2, 7th March 1907 —
Special Steels for Motor Vehicles.
Close
Keywords :
Steels
,
Recyclable Materials
,
Dietary Minerals
,
Ferromagnetic Materials
,
Transition Metals
,
Carbon Steel
,
Nickel
,
Yield
,
Iron
,
Tensile Strength
,
Gas Tungsten Arc Welding
,
Stainless Steel
(Continued from page 572.)
Last week we referred to the necessity for a high elastic limit in steels subject to severe shock, arid with this in view the idea with all the motor steels has generally been, to increase the elastic limit, but not at the expense of the elongation, and much has been done in this direction. With ordinary, mild steel, for forgings, the elastic limit is, usually, about 5o per cent. of the ultimate breaking-strain, whilst the specifications stipulate, for the most part, 45 per cent. In the test given earlier, it would be seen, that the 3 per cent. nickel had an elastic limit of 77 per cent!
Other steels, to which we Shall allude later, possess, proportionately, a higher elastic-limit; but we mention the 3 per cent. nickel steel, as being the simplest and cheapest of the new motor steels.
During the past few years, as we have already said, the experiments made by the steel makers, in their quest for the most suitable material for motor-vehicle constructien, have been almost innumerable, and the lines along which the investigations have been carried are extremely varied.
Whilst, however, ninny of the results obtained have been very instructive and interesang, from the steel maker's point of view, all have not proved practicable commercially, and it is, therefore, not our intention to devote space to these here. Neither do we purpose going into scientific explanations, illustrated by micro-photographs; these would he more in their place in the journals of the Iron and Steel Institute. What we wish to do is to give a few facts concerning those steels which have been tested by the motor engineer and have proved to be the best adapted for his requirements. This will limit the field to a very considerable extent, for there is little doubt that, apart from mild
carbon steels of a superior quality, nickel and nickel-chrome steels, of various percentages, have been found to give the best all-round results.
In the first place, we have a Siemens-Martin mild steel, of a rather superior grade, giving approximately the following test :-
This material is one not to be despised, and, if it were not essential that every part of a motor vehicle should be as light as possible, with new designs necessitating, continually, the reduction of sections, there would, perhaps, have been no pressing need for any increase in the strength of materials. Under the circumstances, however, there is no doubt that the increase was necessary, and, consequentl, the steel maker began his experiments in earnest, principally, at first, in relation to steels containing nickel. The percentages that have been most exploited are from t to 3o per cent., and sufficient has been discovered of the special qualities of nickel ie combination with iron to convince all those interested that there is, still, much more to be learned. But it must not be overlooked that the percentage c f nickel a steel contains is not the only point to be considered; other constituents, more especially the carbon content, affect its strength in a very marked degree. The following test will illustrate this. The two steels are identically the same as regards the manganese, silicon and nickel -(2.5 per cent.) content, but one has a carbon of .61, the other .4o per cent.
We belie■.e that, owing to these possible differences in steels possessing the same nickel content not being clearly understood, some little trouble between the motor engineer and the steel maker has been, from time to time, the result. For instance, the engineer may have been accustomed to dealing with a low carbon nickel steel, and, for some reason changing his source of steel supply, have intimated, without specifying the figures. that he requires a 3 per cent, nickel steel having a high tensile eirength. It is probable that he then receives a 3 per cent. nickel steel giving a touch higher tensile stress than he has been accustomed to, and he may cnly become aware of this, at first, by the increased difficulty that is found in machining the bar or forging. He, naturally, feels some uneasiness until the difference is explained; but, even then, his doobts may not be altogether lemished until an actual working trial of the steel proves whether or not it is suitable for the purpose. It is, therefore, more satisfactory to all concerned if the requirements are thoroughly understood before an order for steel parts is put in hand. In specifying the test he requires, however, the engineer must bear well in mind that a nickel Aeel differs in many respects, and widely, from mild carbon steel. To put it in plain language, it is much more sensitive to hear treatment ; in fact, the heat at which a bar or forging is finished has a marked effect upon the steel, which a• tensile shows very clearly. For this reason, in an ordinary way, the steel maker objects to being bound by the same limits as for carbon steel; the margin is too line.
With the addition of each unit of nickel to a carbon steel there is a corresponding increase in the tensile strength, and an even more than proportionate increase—in rhe lower percentages, at least---in the elastic limit, until about IS per cent, nickel is reached, after which there is a gradual drop in the tensile strength and elastic limit, with a correspondingincrease in the elongation. The following tests (which Messrs. Wm. Jessop and Sons, Ltd., of Sheffield, have, together with those we have already quoted, kindly allowed us to use) show this rise and fall
It is very apparent why the demand for nickel steels should be limited to, for the most part, 3 per cent. and 5 per cent. Up to the latter percentage, the steel may be easily machined, whilst the strength of the material allows a very fair margin of safety, Beyond this figure, in addition to the increasing cost of the material, the difficu/ties of machining become more and more in evidence; with 18 per cent, of nickel present, the question of machining would he a serious one. From about this point up to 30 per cent., the difficulty in turning the steel is owing ao the manner n which it " drags " on the tool. On this account partly and per. haps largely because of its necessarily high price, the use of these percentages of nickel steel is confined, almost exclusively, to exhaust valves, for which it is used to a considerable extent, owing to its non-corrosive properties. it is rather difficult to give any definite, or convincing, data on this subject—which a number of motor engineers seem te require—but we may quote here a table of tests made by Professor Howe, which may help a little in this direction. The specimens were exposed for periods of about one year.
We do not propose, here, to select certain steels and recommend them for any particular part of a motor vehicle ; the engineer is quite capable of selecting the materials which are the most suitable for his purpose. We, therefore, prepose to leave the question of nickel steels for the present, and to deal, next, with steels cr.1.:taining nickel and chro mium— or, as it is generally called, nickel-chronic steel. In considering this material, it is important to remember that, although the proportions of these alloys may be greatly
varied, so, also, may lie the other constituents, and it is, therefore, extremely indefinite, when ordering this material,
to specify, for instance, 2 per cent. nickel with 3 per cent. chrome." Tt is better. in every way, either to specify the test, or to ask the steel maker to state what is the approximate test of the steel he would propose to supply. to a large extent, our remarks on nickel steel apply, equally, in Ihe case of nickel.chrorne steel. Broadly speaking, it is merely a superior type of nickel steel, possessing, generally, a proportionately higher elastic limit with an elongation which peaks vell for its ductility. The test given here will illustrate these characteristics, although it is only fair to say that it is a result somewhat -above the average:— The photograph of the tensile test-piece, taken after breaking, indicates the extreme toughness of the material.